Sino-African relations will recover from the impact of the Covid-19 pandemic and 'remain strong' in the years ahead, with new areas of co-operation, according to the Economist Intelligence Unit (EIU).
In a new report on relations between Africa and China, the EIU underlines that the pandemic brought 'a synchronised downturn in all but a few economies in Africa', but 'the Chinese government and some Chinese companies are making shrewd moves to build goodwill in the region, protect their strategic interests and set the foundation for stronger commercial engagement in the years ahead'.
"Sino-African relations (are expected) to remain strong despite the hiccup of 2020 and new frontiers of co-operation will be explored. China clearly retains a strong appetite for African ventures", the report says.
"Sino-African relations are an increasingly busy commercial two-way street and one that presents both opportunities and challenges for African states, their corporations and other foreign businesses or investors", it adds.
Economic Reforms Make Angola More Attractive to Chinese Investment
China is the region's single largest bilateral trader and provider of foreign capital in the form of commercial loans and FDI, which have over the past two decades been directed towards transport, power, extractives and telecoms projects, as have smaller but increasing amounts to manufacturing, finance, business services, and health and education.
"Resource-rich countries, including Angola, Algeria, the Democratic Republic of Congo (DRC), Egypt, Nigeria, South Africa and Zambia, have been major beneficiaries", the EIU states.
"The financial splurge looks likely to continue, although financial forays may be more selective and even more diverse in the years ahead, given Chinese financial exposure to some parts of Africa coupled with China's own evolving strategy and needs", it adds.
Currently, China is offering the prospect of timely access to vaccines for Covid-19 to African states unable to find them eslsewhere, and is also providing financial relief (along with other G20 countries) to some of its African debtors that have been hard hit by the Covid-19 pandemic.
Chinese foreign minister, Wang Yi, undertook a five-country trip to Africa in January, visiting Nigeria, the DRC, Botswana, Tanzania and the Seychelles, and during the trip Chinese officials emphasised a seven-point plan for enhancing relations in 2021 and beyond, with a fresh focus on agriculture, environmental issues, the digital economy, healthcare provision, industrial capacity, regional connectivity and free trade, and national security.
DRC and Botswana became the 45th and 46th African states to sign up to China's global infrastructure development strategy, the Belt and Road Initiative (BRI).
"Further promises of hard cash are likely to be on the table in the year ahead. The latest edition of the triennial Forum on China-Africa Co-operation (FOCAC, in Dakar in September), looking to build on recent efforts to foster ties that facilitate future trade and investment", the report states.
"FOCAC will again bring pledges of enormous amounts of additional development finance, albeit with strings attached. These may include more active engagement in the BRI and possibly a push for freer trade or economic partnerships agreements in Africa, while exploring new avenues of co-operation", it adds.
Chinese-backed major railway projects in Africa were completed in recent years in Kenya, Addis Ababa-Djibouti, Nigeria and the Benguela Railway from Lobito to Luau in Angola, costing around USD 1.8bn.
"These projects were constructed by Chinese companies and the contracts were largely paid through loans from China, and more are in the pipeline", the report says.
Chinese Company Bidding for Angola´s Benguela Railway Concession
Electricity access is another focus of cooperation, with Angola and Mozambique among countries that suffer regular power outages and cite the failings of the power sector as a major impediment to economic development.
"Ensuring power supplies to facilitate urban and industrial developments is a top priority for African governments and a strategic entry point for Chinese companies", that have been very active in delivering power-sector projects to Africa, the EIU underlines.
According to the report, a new feature of Africa's evolving commercial relations with China could be the emergence of more bilateral and collective free-trade deals ,like the one recently signed with Mauritius, that 'could well act as a catalyst and template for other free-trade deals in Africa'.
"China has also developed industrial parks and free-trade zones in a wider range of African countries, as well as an evolving network of special economic zones across Africa, which present the potential starting point for more in-depth trade and investment ties", the EIU says.
Despite high and growing indebtedness levels in African countries, the report adds, 'China has proved reasonably flexible in postponing and restructuring debt repayments so far in countries such as Angola, Ethiopia, Kenya and Zambia'.
According to the EIU, China's new approach to Sino-African relations entails increased agricultural sector co-operation in food production, storage and transportation; environmental initiatives; digitalisation of the continent; health-sector co-operation; promotion of industrial clusters and knowledge transfer; support for African regional connectivity in product markets and value chains facilitated through intra-African and international free-trade arrangements; and greater military and security co-operation in peacekeeping and counter-terrorism capacity.
"These objectives sit well with the development aims of most African states", the report says.
"The direction of travel appears to be setting the foundations for an increasingly busy two-way street between Africa and China. (…) Evolving Sino-African relations will create more and new business opportunities that can be exploited by non-Chinese entities. Chinese companies will consolidate their presence in the region but do not have exclusivity to trade-facilitating infrastructure, industrial parks, power-generation sites, IT infrastructure, or consumer markets—whether or not they have helped to build or finance these", it adds.
Other articles
Angola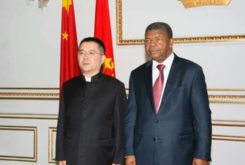 28 November 2022
China to strengthen "strategic alignment" with Angola in human resource training and youth employment
Angola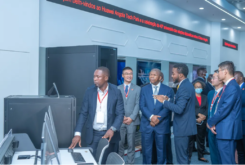 16 November 2022
Huawei "Tech Park" in Luanda to train 10,000 Angolans