Portugal´s Prime Minister, António Costa, underlined the need to "find a greater balance in trade" with China, after a meeting in Lisbon with Chinese vice-president Han Zheng.
"We discussed the deepening of the bilateral relationship in areas such as energy transition, tourism or agri-food, bearing in mind the need to find a greater balance in our trade", wrote Costa on Twitter.
According to Portuguese data, in 2021 the trade balance with China was negative in EUR -2.8 billion, nearly trippling since 2018.
Costa received the vice president of China in his official residence in São Bento.
"The inclusion of Portugal in Vice-President Han's first tour abroad is a sign of the importance of friendship between Portugal and China", the Portuguese Government chief added.
The President of the Republic, Marcelo Rebelo de Sousa, had a working lunch with Han at the Presidential palace, a meeting that included bilateral relations and matters relating to international affairs on the agenda.
Chinese Tourism in Portugal yet to recover, after record drop in 2020
Prior to Han´s visit, which will last until Wednesday, Rebelo de Sousa underlined that China has now a more "intense role" in relation to the war in Ukraine.
"Portugal is an important platform for dialogue. Naturally, we are where we are, we are allies of Ukraine, we are allies of NATO and the European Union, but we maintain dialogue with everything what can in the next moment, in the long term, help build peace", he stressed.
Accompanied by Gouveia, Han inspected on Monday the Research and Development Center of Redes Energeticas Nacionais SGPS SA (REN), Portugal's national grid operator in Lisbon.
Xi Jinping Invites Portugal to Partnership for Africa's Development
Established in 2013 as a joint venture between the State Grid Corporation of China (SGCC) and REN, the center focuses on the research of power system simulation and analysis, renewable energy management, smart grid technology, energy market and other fields, filling the gap in the field of large-scale power grid simulation experiment in Portugal.
Han said that the two sides have given play to complementary advantages and made the center a good example of win-win cooperation between China and Portugal.
"China commends the Portuguese government for its firm efforts to promote energy transformation and support the development of the new energy industry," Han said, voicing hope that the two sides to further strengthen cooperation in technology breakthroughs, standard popularization and mechanism innovation in smart grid and other fields.
Top Portuguese companies visited by high level Macao delegation
Gouveia said that Portugal-China relations are stable and bilateral cooperation in various fields, especially in the economic field, has yielded fruitful results.
"The center is of great significance to Portugal and has provided a great boost to the Portuguese government in its efforts to achieve the goal of energy transition," Gouveia said, noting that Portugal is willing to further deepen bilateral practical cooperation with China, especially in the fields of energy and innovation.
Rodrigo Costa, chief executive officer of REN, said the center's achievements have benefited China, Portugal, Europe and even the world, and it has become an important platform for international energy research and exchange. With the support of the two governments, the center will continue to build the model of pragmatic cooperation between Portugal and China, and further strengthen the platform for global exchanges, he said.
Other articles
Angola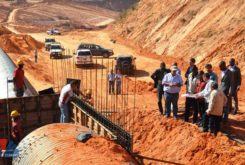 31 May 2023
African Development Bank to manage in Angola USD 50 million credit facility provided by China