Portugal´s Tourism Board (TP) wants to increase the length of stay of Chinese tourists in Portugal and encourage travel throughout the country, in addition to Lisbon.
Welcoming a delegation from the Province of Zhejiang, TP Director of Sales and Marketing Lídia Monteiro highlighted that China can "finally resume international travel for leisure and following the recent announcement by the Chinese Ministry of Culture and Tourism", which included Portugal in the list of 60 authorised countries.
Zhejiang, according to Lídia Monteiro, is the Chinese province that brings the most tourists to Portugal. The head of the Chinese delegation, the first-level inspector of the Department of Culture and Tourism in that region of China, Liu He, pointed out that 35 percent of the Chinese who visited Portugal in 2019 are from Zhejiang Province, Publituris reported.
Chinese Tourism in Portugal yet to recover, after record drop in 2020
"One of the main contributions to bringing the two countries closer is the direct flight between Hangzhou, capital of Zhejiang Province, on the east coast of China, and Lisbon, which is operated by Beijing Capital Airlines", said Monteiro, adding that the airline announced very recently that it would now increase air connectivity to two direct weekly flights, thus connecting the two cities in just 13 hours, on Thursdays and Saturdays, without a stopover.
Lídia Monteiro said that the fact that a large part of the Chinese community living in Portugal is from the Province of Zhejiang, "which helps and contributes a lot to mutual understanding and also to boosting business".
"We hope that today is another opportunity to strengthen these ties and cultural exchange between our two countries, which have a history of cooperation and friendship for over 500 years", the TP director added.
Chinese nationals lead demand for Portugal´s 'golden visa' scheme
Monteiro stressed to Publituris that "even during the pandemic period, whenever there were promotion initiatives within the Chinese territory on tourism, Portugal was present".
Before the pandemic Portugal received almost 400,000 Chinese guests and the authorities are looking to improve this number.
"Our market delegation in Shanghai was always in contact with the operators, of course with the limitations we are aware of. At the moment we are starting our activity in a more persistent way so that we can quickly reach the numbers we had in 2019 and even surpass them", she added.
Portugal Golden Visa Scheme to Remain Attractive Despite Changes, Experts Say
Regarding the reasons for traveling to Portugal, the official highlighted that "there is a great cultural affinity, therefore, historical and cultural connections are of interest to the Chinese".
"They are also consumers of purchases of international brands, but also of Portuguese brands, a very interesting aspect, besides enjoying getting to know our landscapes and our nature", Monteiro added.
Other articles
Angola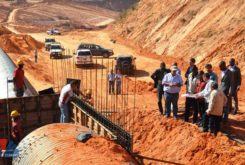 31 May 2023
African Development Bank to manage in Angola USD 50 million credit facility provided by China