Chinese President Xi Jinping extended an invitation to Portugal to participate in the Initiative on Partnership for Africa's Development.
In a phone conversation with Portuguese President Marcelo Rebelo de Sousa (pictured above, right), Xi (above, left) said China is aiming to work with Portugal to promote cooperation in energy, finance and infrastructure construction, and explore third-party market cooperation.
Highlighting the goal to strengthen synergies between both countries´ development strategies, the Chinese President also said he hoped that Portugal will play a positive role in promoting the development of relations between China and the European Union.
"President Xi said that China and Portugal are both ancient civilisations, and they should step up communication and coordination and join hands to tackle common challenges," Xinhua reported.
Chinese Ambassador in Portugal Highlights Energy, Digital Economy, Health for Future Cooperation
President Xi also said that in recent years, Portugal-China relations have maintained a sound momentum of development, with bilateral economic cooperation growing deeper.
Portuguese press meanwhile said that President Rebelo de Sousa told journalists after the conversation with President Xi that he welcomes Chinese enterprises to do business in Portugal.
Portugal and China share much common interest in safeguarding multilateralism and promoting world peace and security, he noted. He added that his country is ready to work with China to support the role of the United Nations and strengthen communication and coordination within the Group of 20 and other multilateral frameworks.
Other articles
Angola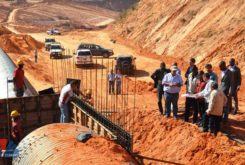 31 May 2023
African Development Bank to manage in Angola USD 50 million credit facility provided by China