China´s USD 300 billion goal of African imports, set at the latest Forum on China–Africa Cooperation (FOCAC), could put the continent on par with Latin America, according to AfricaPractice.
In a review of FOCAC 2021, analyst Iniye Spiff underlines that, in previous years, infrastructure has been a major focus of bilateral relations, "but this has been subject to a change in priorities to include more targeted investments", as "slower economic growth and weakening currencies across the continent have meant that African governments are less likely to push for debt tied to infrastructure projects".
"Instead, China is ramping up import projections, setting USD 300 billion targets for African imports in the next three years. To achieve this, Beijing is establishing "Green Lanes" which will increase the range of products benefitting from zero-tariff treatment for African agricultural exports, in a bid to boost trade levels. This ambitious target, if met, is set to position Africa as an important trade partner on par with the Latin American and Caribbean region", the AfricaPractice analyst adds.
Angola wants support from China in transfer of International Monetary Fund's Special Drawing Rights
China will also encourage its businesses to invest at least USD 10 billion in Africa over the next three years and will establish a platform for China-Africa private investment promotion. Additionally, it will provide credit facilities worth USD 10 billion to African financial institutions, support the development of African SMEs on a priority basis, and establish a China-Africa cross border centre using Beijing's currency, the renminbi.
China is also ready to channel USD 10 billion from its share of the IMF's new allocation of special drawing rights (SDRs) to African countries. Its total allocation of SDRs is worth about USD 40 billion.  "African governments will likely welcome the liquidity boost, as they did following the last SDR issuance amid the global financial crisis", Iniye Spiff  writes.
On a regional level, China will undertake 10 connectivity projects for Africa, form an expert group on economic cooperation with the Secretariat of the AfCFTA. The latter and China's Ministry of Commerce have already signed an MoU to collaborate and establish an expert group on economic cooperation. ​​
China ready to strengthen cooperation with Mozambique in infrastructure, agriculture and energy
Beijing's commitment to the continent at this year's forum "seemingly declined by 33% – from the USD 60 billion announced in 2018, to USD 40 billion for the next three years", but according to the analyst "the true picture of China's financial commitment is more than meets the eye", as the projected amount "could total higher than FOCAC 2018, if we take into consideration the cost of the proposed vaccine donations and the planned financing of ten regional industrialisation projects across the continent".
"Perhaps the most eye-catching announcement (at FOCAC) was President Xi Jinping's pledge to provide 1 billion vaccines for the continent in support of the AU's goal to vaccinate at least 60% of Africa's population by 2022. A total of 600 million doses will be donated and 400 million doses manufactured through joint production at new facilities in Egypt and Morocco", Spiff adds.
The AfricaPractice analyst underlines that for the first time since FOCAC began in 2000, an issue-driven resolution has materialised – the China-Africa Joint Declaration on Climate Cooperation. In keeping with its announcement at the UN General Meeting in September, Beijing maintained its commitment to halting the construction of new coal-fired power stations overseas. For Africa, this would cut the amount of proposed coal power by half and will eliminate the pipeline for new coal plants in African countries.
Xi Jinping willing to take relations with Cabo Verde "to a new level"
"Through this declaration, we can expect China to make the shift from being the major financial supporter of new coal plants on the continent to financing renewable energy solutions. We can thus expect a strategic partnership for addressing climate change involving defending the interest of developing countries, strengthening South-South cooperation and expanding areas of cooperation", Spiff says.
According to the analyst, where there are existing climate projects, including material donation, low carbon development demonstration zones and collaboration on climate adaptation preparedness, China and Africa will speed up implementation. Beijing has also committed to increasing its support for African countries to better harness alternative energy including wind, solar, hydro and biogas.
"Sino-African cooperation has deepened. China remains the continent's foremost bilateral trade partner with a combined trade value of USD 187 million. It has made substantial investments across key axes in health, manufacturing and industrial capacity, regional connectivity, agriculture, the digital economy, the environment, military and security", the AfricaPractice analyst writes.
Other articles
Angola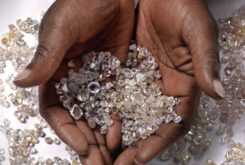 29 November 2023
Angola's Launches its Largest Diamond Mining Project
Angola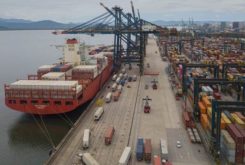 28 November 2023
Sino-Lusophone Trade Dips Again in First Ten Months of 2023