Angola´s Lobito oil refinery project has attracted three Chinese bidders and a total of five proposals.
According to a statement from national oil company Sonangol, the first proposal was submitted by LANPEC Technology Limited (China) and International Business Development Group – IBD (USA).
Another group of companies is formed by HBMP – Hull Byth Man Power – Comercio Geral e Prestação de Serviços Lda and two other Chinese companies: AVIC International Beijing Co Ltd and China Huanquiu Contracting & Engineering Co., Ltd.
According to Sonangol, other bidders include a group formed by Gemcorp Holding Limited and Omatapalo – Engenharia & Construção, S.A..
The two other proposals are from Layher (Pty) Ltd and GazMin International, from the United Arab Emirates.
The refinery in Benguela province is projected to process up to 200,000 barrels per day when completed. According to the proposed corporate governance structure, private investors will own 70% of the company, with state oil firm Sonangol controlling 30% stake.
Angola Launches Permanent Offer Program to Increase Oil and Gas Exploration
Angola is building two more refineries (Cabinda and Soyo) as well as refurbishing and expanding the capacity of the existing Luanda refinery. It targets to process 360,000 barrels of oil per day locally.
Diamantino Azevedo, Angola's oil minister, has said the goal is to have, first, enough capacity to supply the internal market, but also additional capacity to export essentially to the countries in the region.
"We have been working with our counterparts in the DRC to make the relationship more fruitful for our countries. Already in relation to Zambia, there is a proposal by the Zambian government to study the feasibility of a pipeline from Lobito," he added.
China Buys Less Angolan and Brazilian Oil, as Iranian Imports Surge
The country is looking to break its dependence on oil imports. In 2019, Angola imported USD 1.7 billion worth of fuel.
Other articles
Angola
09 December 2021
China-Africa trade in goods rises 27.4%
Angola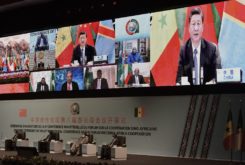 07 December 2021
FOCAC Dakar Action Plan "more detailed and wide-reaching" than previous ones