China Railway Construction Corporation Limited (CRCC) is negotiating an USD 450 million oil refinery project in Equatorial Guinea with the local authorities.
Vice-President Nguema Obiang Mangue (pictured above) said that Equatorial Guinea has been very interested in building a refinery for a long time, but that the previous projects presented to Malabo were not advantageous for the country.  
The CRCC project allows the country to participate in the project to propose its needs, the Vice-Presidente added.
Equatorial Guinea to become Forum Macao's 10th member nation
The refinery will also produce asphalt, plastic containers and other petroleum derivatives, according to the local press.
The CRCC project foresees the infrastructure will refine at least 20,000 barrels per day.
After the parties reached an understanding, the Government gave the green light for the Equatorial Guinean commission to continue discussing the clauses with the Chinese company for an agreement that benefits both parties.
Equatorial Guinea, Cabo Verde and Portugal lead GDP growth in 2022 among lusophone countries
The project was reviewed in a Government meeting attended by the Minister of Finance, Valentin Ela Maye, the General Treasurer of the State, Milagrosa Obono Angue, and the General Director of Gepetrol, Antonio Oburu Ondo.
Other articles
Angola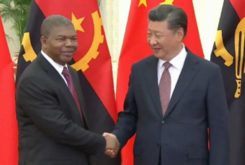 12 April 2023
Angola among African countries helped by China with pandemic debt relief