The Brazilian state of Ceará will start to export marble and granite to China in the first quarter of 2023, according to local industry leaders.
The president of the Union of Marble and Granite Industry of Ceará (Simagran), Carlos Rubens Alencar, said that "demand already exists" in China for Brazilian ornamental stones, speaking at Fortaleza Brazil Stone Fair, the largest ornamental stone fair in the North and Northeast of the country.
Exports to the Chinese marketfollow agreements by local companies and shipping companies, on a monthly scale of a ship to transport ornamental stones to the Chinese market.
Chinese group Goldwind to build wind turbine factory in Ceará, Brazil
The commercial director of Tecer Terminais, Carlos Alberto Nunes Filho, in addition to confirming the start of exports to China, said that this year Ceará will export 65,600 tons of stones, almost triple what it exported in 2018.
Nunes Filho said that growth was due to Tecer and its sister logistics company, Termaco, importing, installing and operating modern equipment, qualifying workforce and innovating in the transport and handling of this cargo.
He said that Tecer and Termaco work 24 hours a day, seven days a week, including Sundays and holidays, running their operations in accordance with all legal requirements, including customs certifications.
Brazil closer to China corn exports as Beijing approves traders
Brazil is currently the fourth largest producer of ornamental stones in the world, with a production chain of 12,000 small, medium and large companies, providing direct employment to more than 100,000 people.
Other articles
Brazil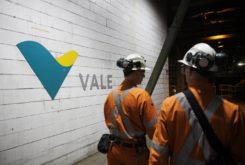 09 December 2022
Brazil mining giant Vale expecting pick up of Chinese demand
Brazil
05 December 2022
Brazil Exports to China Jump 35.6% and lead to record trade surplus