The Government of São Tomé e Príncipe delivered 60 apartments built by China to future buyers, ensuring the completion of the process "smoothly" and "without complaints".
The apartments are part of 200 homes that the Chinese government has promised to complete in all districts of São Tomé and on the island of Príncipe as part of bilateral cooperation.
"Now, the whole organization and preparation of the [São Tomé] Government, together with the Government of the People's Republic of China, follows for the completion of this first phase of the 200 apartments, of which 60 were built and another 140 are planned for the different districts", explained Osvaldo Abreu, the Minister of Infrastructure.
"We found that the process was completed smoothly, there were no complaints after completion. We managed to clarify and filter all the controversial cases that occurred at the beginning of this same process and also with this act to clarify and rebut all the comments and malice we heard about this process", added Osvaldo Abreu.
Beneficiaries went through several selection phases, which included assessing their financial capacity and excluding people who already owned their own home. The final selected were chosen from more than 200 competitors, through a random process.
"The apartments are valued at 35 thousand euros, the T3, and 25 thousand euros, the T2. This is the agreed and approved amount and the beneficiaries have this information", explained the Minister of Infrastructure.
China introduces new agricultural techniques in São Tomé and Príncipe
However, most of the beneficiaries considered that the cost of the apartments is high given the size and structure, so they appealed to the Government to review the price, which was denied by the Minister of Infrastructure.
The minister justified the handing over of the keys to the apartments on the last day of the electoral campaign for the elections that take place in the country on Sunday.
"We are making the delivery to avoid gossip […] among them those who mentioned that the houses will never be delivered to the people who participated in the process, we only put on a show for the elections and that after the elections they will be assigned to other people who did not participate in the process. So we made a point of distributing and delivering the homes before the elections so that it is clear that those who went through the whole process, and are the beneficiaries drawn, are in fact the owners of the houses", justified the minister.
Other articles
Angola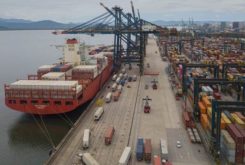 28 November 2023
Sino-Lusophone Trade Dips Again in First Ten Months of 2023
Angola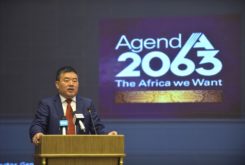 20 November 2023
China and Africa Vow to Bost Cooperation Under Belt and Road Initiative