Relations between Brazil and China in the energy sector are likely to improve under Brazilian President Luiz Inacio Lula da Silva, according to industry experts.
"The Chinese have not stopped investing in Brazil, even during the Bolsonaro government. What I see now is a possibility of improving this relationship, with Lula," Décio Oddone, head of the energy sector at the Brazilian Center for International Relations (Cebri) told BNamericas.
China is Brazil's biggest trading partner, but diplomatic relations between the two countries deteriorated under former President Jair Bolsonaro, who lost his re-election bid and ended his term in December.
New Brazilian President willing to expand relations with China
While seeking access to oil and gas reserves and profitability, China is expected to move forward with an integrated strategy in the electricity sector.
"They started with transmission lines and are now investing in renewable sources. And later on, they can migrate to green hydrogen," said Oddone, who runs Brazilian oil and gas company Enauta.
Ticiana Alvares, PhD in international political economy from the Federal University of Rio de Janeiro (UFRJ), predicts that in the Lula government there will be a more proactive foreign policy of south-south cooperation, both in terms of regional integration and strengthening groups such as the BRICS (Brazil, Russia, India, China and South Africa).
Lula's return to Brazilian presidency expected to energize China-Brazil relations
"Thus, China will have an important place in this resumption [of south-south relations], as it is the main trading partner of Brazil and other Latin American countries," Alvares told BNamericas.
Alvares highlighted that there is great potential for energy business within the BRICS, in which Brazil and Russia are suppliers, and China and India are consumers.
"Brazil is also a reference in renewable energy and China has important goals to diversify its energy matrix, which increases this potential", she added.
Despite the ideological friction, Bolsonaro met in Beijing with Chinese President Xi Jinpingbin October 2019 to sign a cooperation agreement for the development of renewable energy, bioenergy and energy efficiency projects. Bolsonaro also invited China to participate in a major oil and gas auction that would be held by Brazil´s National Oil Agency the following month.
The Chinese CNOOC and CNODC entered into partnerships with Petrobras to acquire the excess volumes of the Búzios field for a signature bonus of approximately R$ 70 billion (USD 13.5 billion). Búzios is the second largest oil and gas field in the country, behind only Tupi. Unlike Tupi, Búzios has an upward production curve, as several new FPSOs are scheduled to come on stream by 2026 and beyond.
CNOOC and CNODC also have stakes in the Mero field, in the giant Libra block, operated by Petrobras. Mero produces around 245,000 boe/d with the FPSO Guanabara, which started operations in 2022.
CNOOC buys additional 5% stake in Buzios oilfield for USD 1.9bn
By 2025, three other floating platforms are scheduled to start producing in the pre-salt: Sepetiba, Marechal Duque de Caxias and Alexandre de Gusmão, each with the capacity to produce 180,000 b/d of oil and 12 MMm³/d (million meters cubic per day) of natural gas.
Other fronts with potential for increasing production by the Chinese groups are the various exploratory blocks in its portfolio, in the Espírito Santo (ES-M-592) and Santos basins (Peroba, Alto de Cabo Frio Oeste, Pau Brasil and Aram).
State Grid Brazil Holding (SGBH), a company belonging to the State Grid Corporation of China group, has been in Brazil since 2010, operating in the transmission sector. Today, it has more than 16,000 km of transmission lines through 19 concessionaires and another five concessions via consortia with a 51% stake each.
State Grid Corporation of China´s operational and investment capacity "tested" in Brazil
State Grid is the majority shareholder of CPFL Energia, which plans to invest around R$ 5 billion this year, of which R$ 3.9 billion will be allocated to energy distribution, R$ 640 million in transmission and R$ 520 million in generation.
Meanwhile, the Brazilian subsidiary of China's State Power Investment Corporation (SPIC) aims to become one of the top three private power generation players in the country by 2025. By then, the company will have more than 5 GW of installed capacity, including gas thermoelectric plants and wind farms.
Another important Chinese player in Brazil is BYD, whose planned investment for the next three years reaches R$ 10 billion, focusing on solar energy and electric mobility.
Other articles
Brazil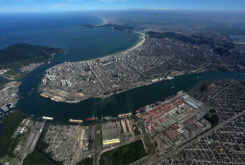 24 May 2023
Artificial intelligence and machine learning resolving China-Brazil "logistics bottlenecks"