Portugal's minister of Science praised the launch in the country by Huawei of a 5G telecom network infrastructure 'experience lab' for students and companies.
Huawei Portugal, the University of Aveiro and Portugal's Telecommunications Institute opened  this week the so-called "5GAIner — 5G + IA Networks Reliability Centre", an infrastructure to "facilitate the development and experimentation of solutions in the context of fifth generation networks and new Artificial Intelligence tools".
"Portugal is always open to collaboration, certainly keeping our European mindset, nature and DNA, but always open to collaboration and interested in attracting Chinese companies and foreign direct investment", Manuel Heitor, Portugal's minister of Science, Technology and Higher Education (pictured above) said at the launch in Aveiro.
Huawei Portugal to "Develop New Generation of Portuguese Tech Talent"
Addressing the company's representative in Portugal, Tony Li, the minister thanked the collaboration, saying it was an "important project, certainly in Aveiro, in Portugal and in Europe, with Portugal's positioning in Europe always being open to the world".
The "5G + IA Networks Reliability Centre" will be available to the Portuguese academic and scientific community, as well as at the service of entrepreneurship and innovation.
"5G technologies are effectively a hope in Portugal, Europe and the world, especially when combined with advanced information processing systems, including artificial intelligence technologies and methodologies", Heitor said.
Portugal Aiming for Chinese Investment in Life Sciences, Automotive and Tourism
The rector of the University of Aveiro, Paulo Jorge Ferreira, said the institution's trajectory, since the 1950s, was marked by "active involvement in communications", concluding that "ideal conditions exist in the accumulation of knowledge at the University and at the Telecommunications Institute" to welcome the initiative.
"Looking at our industrial fabric and its constitution, we find a group of companies with a sufficiently high level of maturity to be able to welcome, develop, and leverage these developments and conditions", he added.
José Carlos Pedro, president of the Instituto de Telecomunicações (IT), said that the "5G + IA Networks Reliability Center" will start providing services to four research and development projects, and has already managed to attract two companies that wish to take advantage of new technologies of artificial intelligence and the Internet of Things to improve the quality and efficiency of its operations".
Other articles
Angola
09 December 2021
China-Africa trade in goods rises 27.4%
China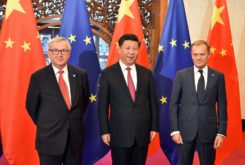 08 December 2021
Brussels and European capitals face 'reality of interacting with a more assertive China'