Portugal is teaming with China International Electronic Commerce Center (CIECC) to attract Chinese Investment in Life Sciences, Automotive Industries and Tourism, according to the country´s trade board, AICEP.
The AICEP office in Beijing and CIECC will organize on 28 October a webinar to provide Chinese companies with an introduction on Portugal as investment destination, including on how to set up a company in the European Union country.
"Portugal has become an important production and services platform of numerous multinationals' operations that wish to stay closer to European markets and suppliers. Additionally, the Country is now home to many knowledge-intensive projects, including engineering centres, services centres and research units", AICEP adds.
The event will focus on Life Sciences, to be presented by the director of "Health Cluster Portugal" Joaquim Cunha, Automotive, presented by Secretary General of Mobinov Fernando Machado and the Tourism industry, which will be introduced by the Tourism Director at the Consulate General of Portugal in Shanghai, Tiago Brito.
The event will be chaired by Vice Director-General of Beijing Municipal Commerce Bureau, Wu Xiangyang, and the Economic Counsellor of the Embassy of Portugal in Beijing, João Falardo.
Photo: Lisbon, Portugal
Other articles
Angola
09 December 2021
China-Africa trade in goods rises 27.4%
China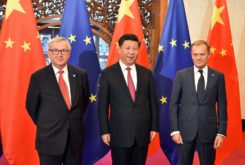 08 December 2021
Brussels and European capitals face 'reality of interacting with a more assertive China'