The Mozambican government has authorized the construction of a new port terminal in the south of the country that will transport heavy sands explored by China´s Ding Sheng.
According to the final statement of this week´s meeting of the Council of Ministers, a direct agreement was authorized for a partnership between the Chinese firm Desheng Port and Caminhos de Ferro de Moçambique (CFM) to build and operate under concession the port terminal to be located in the district of Chongoene, Gaza province
In the process, the Mozambican Government assumes the role of "port grantor".
Chinese company to build the new port of Chongoene in Mozambique
The construction project for the port of Chonguene was announced in August 2022, financed by the Chinese company Ding Sheng Minerals, which has been exploring the heavy sands of Chibuto, a neighboring district, since 2018.
Ding Sheng´s mining concession has a term of 25 years and, during this period, the forecast is that the company will extract annually one million tons of ilmenite (titanium and iron oxide), in addition to heavy sands.
"They need an area that facilitates access to the sea and are going to invest in Chonguene", explained Prime Minister Adriano Maleiane at the time.
New Heavy Sands Project in Mozambique Adds to Chinese Exploration
Heavy sands are minerals used in paints, plastics and ceramics.
China appears as one of the main export destinations for other mines of the same type, owned by firms from other countries, in Mozambican territory.
Other articles
Angola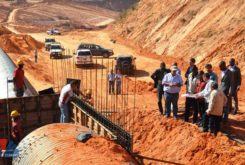 31 May 2023
African Development Bank to manage in Angola USD 50 million credit facility provided by China