China's Dingsheng Minerals, which has been exploring heavy sands in Chibuto, Mozambique, will finance the construction of the new Chongoene port.
The port of Chongoene, in Gaza province, will facilitate the export of mining production from the region, Prime Minister of Mozambique, Adriano Maleiane, has announced.
"Dingsheng Minerals needs an area that facilitates access to the sea and they are going to invest in Chongoene," said Maleiane.
New Heavy Sands Project in Mozambique Adds to Chinese Exploration
Dingsheng Minerals is awaiting approval of the environmental impact studies for the start of the works, added Maleiane, who did not reveal the cost of construction or the deadlines for the project.
Dingsheng Minerals has been operating in the Chibuto district (pictured above during a visit by Mozambican President Filipe Nyusi) since 2018 with a capacity to process 10,000 tons of sand daily.
The concession to the Chinese company runs for 25 years and the company is expected to extract one million tons of ilmenite (titanium and iron oxide) annually, in addition to heavy sands.
Other articles
Angola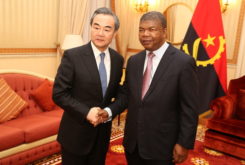 07 December 2023
China and Angola "An Example" for South-South Cooperation, MFA Says
Angola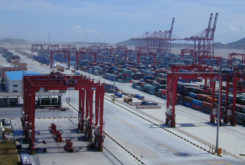 07 December 2023
China Eliminates Tariffs on 98% of Imports from Angola and Signs Investor Protection Agreement