Mota-Engil, construction company whose second largest shareholder is China's CCCC, is preparing the issuance of sustainability-linked bonds with an initial aggregate amount of up to EUR 75 million.
A maximum of 150,000 bonds with a maturity of five years and a fixed interest rate of 4.25% will be issued, according to the operation's prospectus, which has already been approved by the portuguese equity markets regulator, CMVM.
In the document, the construction company said it planned to launch a "public offering for subscription and admission to trading on the regulated market up to EUR 150,000 bonds, issued by Mota-Engil, SGPS, SA, with a unit face value of EUR 500 and an initial aggregate amount up to EUR 75 million, which may be increased via an addendum to the prospectus approved by the CMVM and published by November 23."
The sustainability-linked bonds will be issued on December 2 2021, maturing five years later. The repayment is made in two instalments of EUR 250 each, the first on December 2, 2025, and the second on December 2 2026.
Every year, Mota-Engil will pay a gross interest of 4.25%, subject to taxes, which is due semi-annually, on June 2 and December 2 of each year, until the final reimbursement. In addition, investors may receive an additional remuneration of EUR 1.25 per bond, to be paid on the final repayment date, if Mota-Engil fails to meet the sustainability criteria set out in the offer.
Simultaneously, Mota-Engil is advancing two voluntary public exchange offers of the 150,000 bonds it issued in November 2018 (which mature in 2022) and the 6,051 bonds issued in January 2018 (which mature in January 2023).
Other articles
Angola
09 December 2021
China-Africa trade in goods rises 27.4%
Angola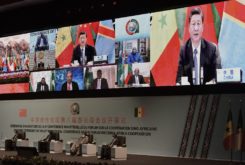 07 December 2021
FOCAC Dakar Action Plan "more detailed and wide-reaching" than previous ones