The Government of Macau appointed Lúcia Abrantes dos Santos as the new head of the Economic and Commercial Delegation of Macau in Lisbon, to the European Union (EU) and to the World Trade Organization (WTO).
In a dispatch published in the Official Gazette of the Chinese region, the Chief Executive, Ho Iat Seng, justifies the choice with the "vacancy of office" since the previous head, Alexis Tam Chon Weng, retired.
As well as leading the delegation of Macau in Lisbon, Lúcia Abrantes dos Santos will also head the delegations of the Chinese special administrative region to the EU, in Brussels, and to the WTO.
Macao-Portugal Investment and Tourism Conference results in 11 cooperation agreements
The appointment, dated May 17 and valid for one year, is a promotion, since Lúcia Abrantes dos Santos was already accumulating the three positions, "on a replacement basis".
Lúcia Abrantes dos Santos was, at the end of 2014, appointed adviser to Alexis Tam, then Secretary for Transport and Public Works, having later followed Tam when he went to lead the Macau delegation in Lisbon.
The Government of the Chinese region decided in June 2021 to close the Macau Tourist Information and Promotion Center in Lisbon, said the director of the Tourism Office at the time.
Other articles
Angola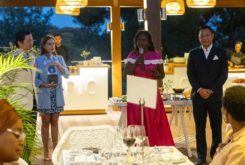 08 August 2023
Portuguese-Speaking Countries Business Confederation Names China Representative