A total of 11 cooperation agreements were signed at the Macao-Portugal Investment and Tourism Promotion Conference held last week in Lisbon, the Macao government has announced.
The pacts covered cooperation agreements between the economic and trade departments and chambers of commerce from Portugal and Macao, as well as commercial deals in tourism, conventions and exhibitions, legal and professional services, cross-border e-commerce, and other fields.
The event was attended by senior members of the Macao government in Lisbon on an official visit, including Chief Executive Ho Iat Seng and the finance and transport secretaries, Lei Wai Nong and Raimundo do Rosário. Tourism chief Maria Helena de Senna Fernandes was also present.
Macao Chief Executive in Europe for visits to Portugal, Luxembourg and Belgium
At a separate meeting, Macao's chief executive told business figures from Macao accompanying the official delegation to use the visit to seek fresh business opportunities and to promote Macao and Hengqin as attractive locations for investment from Portugal.
This, he said, would boost ​​Macao-Portugal cooperation in trade and tourism, and generate new impetus for the SAR's economic diversification.
Previously, Ho met Portugal's President Marcelo Rebelo de Sousa and Prime Minister António Costa in Lisbon on Thursday, the Lusa news agency reports.
Top Portuguese companies visited by high level Macao delegation
During his audience with President de Sousa, Macao's top official was awarded the Grand Cross of the Order of Infante D. Henrique, bestowed on those who render services to Portugal and assist in "the expansion of Portuguese culture or knowledge of Portugal, its history and its values".
On Wednesday evening, Ho also met with the Chinese ambassador Zhao Bentang, to discuss the continued strengthening of Macao-Portugal cooperation, and Macao's role as an intermediary in Sino-Portuguese ties.
According to the MSAR Government, Ho and Zhao Bentang exchanged views on issues such as the continued strengthening of Macao-Portugal cooperation, and further promotion of China-Portugal ties via Macao's platform role.
Macao government chief expects Macao Forum ministerial conference in 2023 after 4-year postponement
The Chief Executive gave a briefing on the MSAR Government's "1+4" appropriate diversification effort; its development strategy; and the latest developments regarding the Guangdong-Macao Intensive Cooperation Zone in Hengqin.
The MSAR Government had arranged for a Macao entrepreneur delegation visiting Portugal, along with government officials from the Cooperation Zone in Hengqing and enterprises from there, said Mr Ho. In addition to looking for business opportunities within Portugal for the Macao side, it was also hoped that the trip would help Portuguese enterprises get a more comprehensive understanding of the investment opportunities available in Macao and in the Cooperation Zone in Hengqin.
For his part, Ambassador Zhao noted Portugal was the first overseas country visited by a MSAR Government delegation since the pandemic. He emphasised that Macao's role as a commercial and trade cooperation service platform between China and the Portuguese-speaking countries would facilitate Macao's effort for appropriate economic diversification.
Other articles
Angola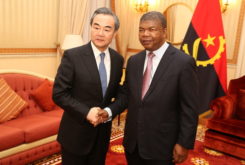 07 December 2023
China and Angola "An Example" for South-South Cooperation, MFA Says
Angola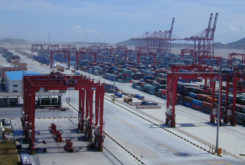 07 December 2023
China Eliminates Tariffs on 98% of Imports from Angola and Signs Investor Protection Agreement