Timor-Leste has introduced a digital customs payment system and updated fees for the provision of customs services, through new legislation. The Regulation of Emoluments and Fees of the Customs Authority and Legal Regimes of Arrears and Compensatory Interest in the Customs Area in Timor-Leste were approved through Ministerial Diplomas no. 5/2021 and no. 6/2021 and are already in force, according to the official legal database of Portuguese-speaking countries, Legis-PALOP + TL.
Settlement of emoluments or fees to be paid by the economic operator or the individual are now mandatorily processed through the ASYCUDA digital system, channeled to the Treasury's current account defined by the Ministry of Finance.
Customs officials are expressly prohibited from receiving payment of emoluments or fees from the taxpayer under the new legislation.
The alteration or reproduction by third parties of the model of the Single Customs Document (SAD) form subjects the offender to disciplinary and or criminal proceedings.
Timor-Leste Introduces National Single Window Customs System
The amounts related to the fees for the provision of customs services provided for in the Customs Code and by the Customs Authority, now vary between USD 100, USD 50, USD 40 and USD 35, as applicable respectively.
Services include the entry, control and departure of commercial ships, commercial or recreational aircraft, goods or passengers, on-board visits, sealing, checks, assistance and checking of volumes, clearance of goods carried by commercial transport vehicles outside normal operating period and outside the perimeter of the customs office.
Other services in question include the use of the customs information system, handling and tax clearance of motor vehicles outside the normal period of operation; loading or unloading of goods in places other than those designated for that purpose, or outside normal operating hours; and issuing an official dispatcher's license, among other services.
Unchanged are the fees and charges established since the date of entry into force of the Customs Code (2017) for expediting and dispatching commercial vessels, entry and exit of commercial or recreational aircraft, entry and exit of commercial road transport vehicles of goods, customs clearance of automobiles and luggage and denaturation, coloring, tax marking and destruction of goods, among other services.
The new legislation also defines that, from the moment the legal deadline for voluntary payment of a customs debt ends without it having been paid, interest on arrears is due at a rate of 3% per month.
In case there is a delay when the customs debt is incurred or liquidated, due to the declarant's fault, compensatory interest is due at the rate of 4% per month, under the new legislation.
Other articles
Angola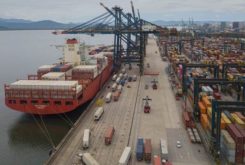 28 November 2023
Sino-Lusophone Trade Dips Again in First Ten Months of 2023
Angola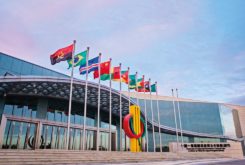 15 November 2023
China-Portuguese-speaking Countries Entrepreneurs Meeting to Return in 2024