The Angolan Government has amended the country's Private Investment Law Regulation and Legal Regime Applicable to Fees charged by the Private Investment and Export Promotion Agency (AIPEX), according to official legal database Legis-PALOP+TL.
Presidential Decrees No. 271/21, of 16 November, and No. 288/21, of 6 December, which respectively amend and republish the Regulation of the Private Investment Law and Legal Regime Applicable to Fees charged by AIPEX, entered into force on the same days.
As of 16 November, the regulation of the private investment regime will cover the contractual regime, which applies to private investment projects, carried out in any sector of activity, whose investment amount corresponds to the equivalent in Kwanzas of USD 10,000,000.00 or more and which create at least 50 direct jobs for nationals.
Projects considered to be structuring and creating at least 50 direct jobs may also be included in the Contractual Regime. Structuring projects are considered to be projects with the potential to induce growth and development in its value chain and in other sectors of activity and to contribute to the formation of clusters, particularly in the sectors of energy and water, education, transport and communications infrastructure, pharmaceutical industry, scientific research development activities for industry, agriculture and biomedicine, innovation, technological development, production of high-tech industrial products and others considered strategic for the country's development.
Incentives and facilities for projects included in the contractual regime are granted through a negotiation process that culminates in the signing of a private investment contract with the Angolan State, represented by AIPEX, and the private investor as parties.
The regulation of private investment also embodies the provision in force since April 2021 in the republished version of the Private Investment Law, according to which private investors can resort to internal and external credit, with external investors being considered eligible for internal credit in any stage of implementation of the respective investment projects.
As of December 6, public or private entities that are beneficiaries of the services provided by AIPEX must pay fees ranging from Kwanzas 40,000 to Kwanzas 1,000,000 (about USD 70 and USD 1700), levied on either the provision of registration services for investment proposals, as well as assistance in the implementation of investment projects and other services related to investment.
For the issuance of the Private Investment Registration Certificate (CRIP) a fee of 300,000.00 Kwanzas (about USD 500) is charged. Registration for Investment Regularization is charged the fee of 1,000,000.00 Kwanzas (about USD 1700).
Other articles
Uncategorized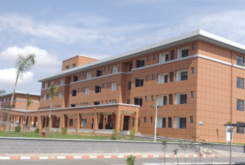 21 June 2023
Angolan diplomatic academy to offer courses in Chinese language
Uncategorized
20 March 2023
Japan pledges to support USD 530 million port development project in Angola