Doubts are growing about David Chow´s casino complex being completed in Cabo Verde, according to the local press, while the Macao magnate´s group faces financial stress back home.
The project of the "Djeu" complex, in the capital city of Praia (Santiago island), which includes a casino, marina and offices (digital rendering pictured above) was announced in 2001, but construction was launched only in February 2016.
Currently, the local press reports, the only structures whose construction is advanced are an office building and the bridge that connects Santa Maria islet to land.
Delay in Macau Legend´s EUR 250 million Resort in Cabo Verde Likely – Government
Local newspaper A Nação reports Chow´s project has "advanced little to nothing, raising questions whether the venture will ever be a reality".
Initially the investment was 250 million euros, but after changes and addenda to the project, the investment was set at 90 million euros, in a first phase.
Chow received a 25-year gaming license in Cabo Verde, 15 of which on an exclusive basis in Santiago. He also has a special license to explore exclusively the online gaming market in the archipelago and the sports betting market, for a period of 10 years. For this, the businessman paid around 1.2 million euros.
Chow also tried open a bank in Cape Verde, formalizing the request to the national authorities in
2018, but the project was deemed not in accordance with the legislation in the country
Hoje Macau newspaper recently reported that Chow´s Macau Legend Development Ltd. defaulted on payment of two loans to banks Luso and CMB Wing Lung, with which it is now negotiating.
According to the same source, on 30 June the group had loans of 2,373 million dollars and needed to pay 237
million over the next 12 months, facing lack of liquidity.
Other articles
Cabo Verde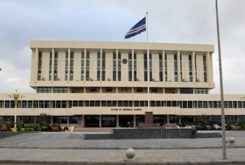 26 April 2023
Legal Update/Cabo Verde: National Strategy for the Prevention and Combat of Money Laundering