Banco de Cabo Verde (BCV), the country´s central bank, has filed the authorization request for the creation of Banco Sino-Atlântico (BSA) by businessman David Chow, due to lack of response to requests for clarification.
According to Africa Monitor Intelligence, BCV never received answers on aspects such as the BSA's shareholder structure and the source of the bank's financing. The notice of the extinction of the process has already been sent by BCV to the businessman, who has important investments in gambling and real estate in Macau. If interested, Chow may submit a new application.
The process was in charge of the BCV's Supervision Department, which, after fulfilling all requirements, including the "history" of the promoter and origin of the capital, should submit it to the BCV Board of Directors, an entity with exclusive competence in bank licensing, in accordance with the Basic Law of the Financial System (LBSF) and the Law of Activities of Financial Institutions (LAIF).
The information requested is essential for authorization by the BCV, in order to comply with international standards for the prevention of money laundering, corruption and the financing of terrorism. Failure to comply with these rules could lead the country to a loss of relationship with correspondent banks.
BCV had shown reticence from the beginning to authorize the licensing of BSA. The bank's creation process should have been submitted to the BCV within 6 months, according to the 2017 agreement, but the process was only submitted on FEB.2018.
The headquarters and main branch of the BSA was to be located be in the 14-story building that integrates the complex that DC is finishing in Gamboa. In the same building, which is already in an advanced stage of construction, a convention center, online casinos and offices are expected to operate.
In 2019, the Government accepted Chow´s proposal to reduce the scale of the tourist complex of the islet of Santa Maria, in the city of Praia, advancing, at this moment, only with a first phase of the project, now budgeted at USD 90 million, about 1/ 3 of the initially forecast value.
With a period of 22 months from the publication of a resolution by the Council of Ministers of April 2019 amending the agreement with Macau Legend Development (MLD) Cabo Verde Resorts and MLD Cabo Verde Entertainment, the first phase consists of the conclusion of all the existing structures, as well as the bridge of the islet of Santa Maria, hotel-casino with 250 rooms, restaurants, bars and shops.
Given the stoppage of the Cape Verdean tourism sector since MAR., due to the Covid-19 pandemic, the completion of the project could experience further delays, Africa Monitor Intelligence adds.
Photo: Macau Legend Complex in Praia, Cabo Verde
Other articles
Angola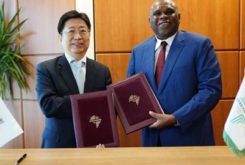 30 August 2023
Afreximbank and China Development Bank sign USD 400 million Loan to Support African SMEs
Angola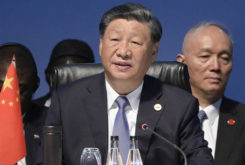 25 August 2023
Chinese President Vows to Support Agricultural Modernization in Africa