Macau Legend group´s casino resort in Praia, Cabo Verde, is going ahead, but is likely to face delays because of the covid-19 pandemic, according to the Tourism minister, Carlos Santos.
The company is "continuing with the works" on the ground, but "obviously at this moment, with the pandemic, there was a slowdown", Santos told Lusa news agency in an interview. "But we have not had any contrary information, that there is abandonment, and we understand that that work is to continue, because it is a large investment", he added.
"There will probably have to be a delay there, precisely because of the halts that existed. But we are hopeful that with regard to large investments, things will continue", the minister said.
Legend´s David Chow signed an agreement with the Cape Verdean Government in 2015 for the construction of the project, with the first stone being laid in February 2016.
It is the largest tourist development in Cape Verde, with an estimated global investment of EUR 250 million – about 15% of Cape Verde's Gross Domestic Product (GDP) – for the construction of a tourist resort on the Santa Maria islet, inaugurating the gaming industry in the archipelago.
The work involves the construction of a hotel with 250 rooms, a casino, a large swimming pool and several facilities for restaurants, bars and commercial establishments, as well as a marina.
An addendum to the agreement between the company and the Government, of April 2019, states that both parties agreed that the project is opened in phases, with the first one completed within 22 months, following a EUR 90 million investment.
Macau Legend announced last March that it plans to open the resort "gradually" starting in the end of 2021, a year later than planned. The "construction plan for the hotel and casino complex" is currently being analyzed", it added.
The construction has been going on for several months with few workers on site and limited visible progress, according to local sources.
The Cabo Verde Government expects construction to pick up pace not only in Macau Legend´s project, but also others in the archipelago.
"The overwhelming majority of investors who are making investments in Cape Verde, before the pandemic, immediately with the repatriation flights asked the  Government for authorization to send their staff to Cape Verde to continue the projects", said Carlos Santos.
Photo: Digital rendering of Macao Legend Cabo Verde resort
Other articles
Angola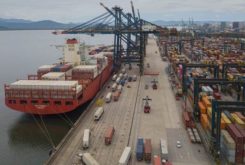 28 November 2023
Sino-Lusophone Trade Dips Again in First Ten Months of 2023
Angola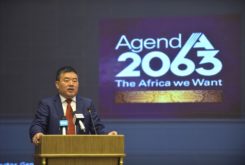 20 November 2023
China and Africa Vow to Bost Cooperation Under Belt and Road Initiative