Measures taken by the U.S. and the European Union (EU) to improve supply of rare earths minerals are seen as encouraging by mining company Pensana, which partners in a new project in Angola with China Great Wall Industry Corporation (CGWIC).
Last week, the U.S. President signed an executive order aimed at expanding domestic production of rare earths, while the EU launched the European Raw Materials Alliance aimed at strategic autonomy on raw materials such as rare earths.
The U.S. order, which declares a national emergency in the mining industry, directs the Interior Department to explore using the Defense Production Act to hasten the development of mines.
EU Commissioner Thierry Breton said the new measures are aimed at "building strategic autonomy for the rare earths and magnets value chain", recognising that Europe's own resources are limited and the very strong anti-mining lobbies in many European countries.
"We  want to forge partnerships with third countries… such as better integrating African countries into European value chains", Breton said.
In a statement, Pensana said it is "rapidly advancing its Longonjo project – one of the world's largest resources of magnet metal rare earths – as the first major rare earth mine to be brought online in over a decade".
"The access to high quality infrastructure, notably the zero carbon hydro-electric power, highlights the potential for Longonjo to be brought online as a sustainable supplier at a time when there is this growing concern around the provenance of the rare earth supply chain", it added.
Recently, the Angolan Sovereign Wealth Fund (FSDEA) said it will invest a further USD 8.6 million in the Longonjo Rare Earth mine.
Other articles
Angola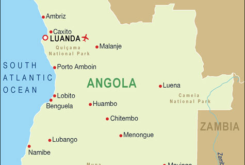 21 June 2021
China National Aero-Technology Corporation in USD 85 million Angola Deal