China´s Belt and Road Initiative is the best route for Africa´s development, according to Equatorial Guinea President Teodoro Obiang Nguema Mbasogo.
"We appreciate China's great support in helping the economic development of African countries", Obiang (pictured above with Chinese President Xi Jinping) said in an interview with the China Media Group (CMG).
The Belt and Road initiative, he added, is the way out for China-Africa cooperation and the development of African countries, as well as a way to get the continent out of the current problems of underdevelopment and poverty.
Cristina Mangue Abeso Becomes Equatorial Guinea´s First Delegate to Macau Forum
Obiang criticized Western countries for saying that China practiced so-called "neo-colonialism" and created the "debt trap" in Africa. The head of government said that the defamation made by the West about the Chinese action seeks to contain China and prevent the country from helping the African continent.
In fact, Equatorial Guinea has not received any international development assistance other than Chinese aid, added Obiang.
Obiang pointed out that the Asian country is an economic power and believes that the secret of this success lies in the actions of the Communist Party of China (PCCh), in defending its ideals of serving the people wholeheartedly.
Equatorial Guinea to become Forum Macao's 10th member nation
The president expressed the hope that the Democratic Party of Equatorial Guinea (PDGE) will communicate with the CCP in order to learn its principles, ideas, practices and methods to strengthen ties with the people.
Other articles
Angola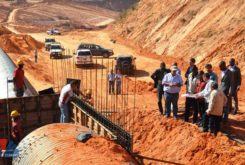 31 May 2023
African Development Bank to manage in Angola USD 50 million credit facility provided by China