EDP Renováveis (EDPR) delivered a new solar energy project on a factory in the Chinese province of Anhui and wants to develop 150MWp of solar energy in the Asian country.
"This project is part of the additional installed capacity of 150MWp of solar energy that EDPR wants to develop in China and the commitment to invest in distributed projects and large-scale solar power plants", the company said in a statement.
The new development in China, it adds, is "in order to support the country's goal of achieving net zero emissions of carbon by 2060".
Singapore's GIC to invest EUR 1bn to acquire a stake in Portugal's EDP Renovaveis
In its most recent development, EDP Renováveis (EDPR) completed the construction of a distributed generation solar energy project for self-consumption of 19 Megawatts-peak (MWp) in the Chinese province of Anhui.
This project, it adds, is "the largest distributed generation solar park ever completed by the EDP group on a customer's premises".
Launched at the beginning of the year, the project was installed on the roof of a consumer electronics factory, has a 20-year long-term contract and is structured with 35,000 solar panels.
According to the company, it will generate more than 22 Gigawatt-hours (GWh) of energy per year, which is equivalent to offsetting around 19,000 tons of carbon emissions.
Through the acquisition of Sunseap in 2022, EDPR has over 730 Megawatts (MW) of solar capacity in the Asia Pacific (APAC) region markets, currently representing 5% of the company's global renewable energy portfolio.
Other articles
Angola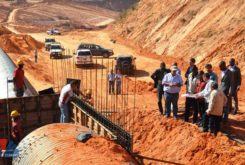 31 May 2023
African Development Bank to manage in Angola USD 50 million credit facility provided by China