China Energy Engineering Corporation (CEEC) is planning to build a distribution station to reduce the shortage of drinking water in the Angolan capital, Luanda.
A subsidiary of CEEC, Guangxi Hydroelectric Construction Bureau, said it had signed a contract for an undisclosed amount with the National Water Services, under the auspices of the Angolan Ministry of Energy and Water.
The contract provides for the construction, in the Benfica area, of a station that can store up to 2,500 cubic metres of water and with the capacity to distribute 1,300 cubic metres of water per hour.
92 percent of Cabinda's residential communities covered by China Railway 20th Bureau Group water project
The project provides for the installation of a distribution network and supply points for the population and may also function as a water treatment plant in case of an emergency.
CEEC guaranteed that the project will "not only respond to the daily demand of residents" of Benfica, but also "solve in part the shortage of supply in some urban areas of Luanda".
The contract also provides for the installation of rainwater drainage equipment, helping to "reduce the losses" caused in the Angolan capital by the chronic floods during the rainy season, between September and May.
China´s CREC4 urban water project in Bie province to supply 70,000 users
In April, intense rain led to an increase in the level of water in retention basins, causing landslides in some municipalities, flooded houses and streets in Luanda.
CEEC said the project is expected to be completed within about 10 months.
CEEC is also working in Mozambique in the areas of energy and water infrastructure.
PowerChina drought relief project opened by Angolan President
In 2019, CEEC announced the construction of a hydroelectric dam on the Megaruma River to reinforce the water supply to Pemba, the capital of Cabo Delgado province in northern Mozambique.
In the same year, the group signed a contract with Electricidade de Moçambique for the design and installation of an electrical transmission and transformation network in Mozambique.
Other articles
Angola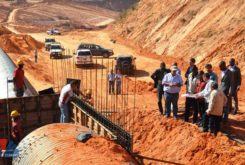 31 May 2023
African Development Bank to manage in Angola USD 50 million credit facility provided by China
Angola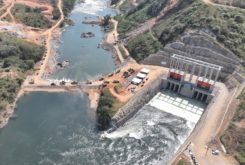 25 May 2023
Angola's 'Three Gorges' Hydro Dam Begins Main Construction Phase