BYD will invest 3 billion reais (USD 624 million) in Brazil, in the northeastern state of Bahia, to build its first electric-car plant outside Asia.
The facility will include hybrid and electric car production, a unit focused on chassis for electric buses and trucks, and one to process lithium and iron phosphate for the international market, the company said in a statement.
Operations are expected to start by 2024. The site will be BYD's first outside Asia, where the company also plans to invest in Thailand and Vietnam.
Brazil wants China´s BYD to relaunch former Ford factory in Camaçari
The decision follows efforts by Brazil's government to deepen ties between Latin America's largest economy and China, and to woo top companies to invest in the country.
This efforts will accelerate investments, particularly in sustainable projects, and help boost growth, according to Stella Li, BYD global vice-president. "This is a country we trust and this is a government we trust," Li said in an interview with Bloomberg in Sao Paulo.
"I see a China-Brazil win-win position to build up a top level, very friendly relationship. And this is making a huge difference."
Brazil looking for Chinese investors to launch EV production in Northeast
The BYD factory will have an initial annual capacity of 150,000 units, with the potential to reach 300,000 units. It will be the second facility dedicated exclusively to electric and hybrid cars in Brazil. Two years ago, Great Wall Motors agreed to buy a Daimler AG factory in Sao Paulo, pledging investments of 10 billion reais by 2032.
BYD expects the investment will attract local suppliers that can specialize on the production of electric and hybrid vehicles. The site will generate more than 5,000 jobs.
"This will become the hub for innovation," the BYD executive said, adding that suppliers will be coached. "Because we own the technology, we have capability to help them."
Great Wall Motor´s investment in Brazil to generate over 2.700 jobs
The Chinese firm has been in Brazil since 2015, when it opened an electric bus chassis factory in Sao Paulo. Later, it started producing photovoltaic modules in the same region and lithium iron phosphate batteries in Amazonas state.
Brazil's market has the potential to develop in the same way as China's, with hybrid vehicles gradually giving way to pure electric technologies as charging infrastructure improves, according to Li.
But the technology will have to compete with cars fueled by ethanol made out of sugar cane, another cleaner solution that dominates Brazilian streets. Sales of hybrid or electric vehicles in Brazil accounted for only 2.5% of the total last year, according to the sector's lobby group Anfavea.
"Far-reaching impacts" on China-Brazil strategic partnership from Lula visit
The technology is expected to reach 7% of light vehicle sales by 2030, much lower than the world's estimated average of 37%, according to Bright Consulting.
BYD recently launched in Brazil its Dolphin EV, a 100% electric model, considered to be the vehicle with the best energy efficiency in the Brazilian market, according to Inmetro specifications (291 kilometers) and, according to Inmetro data.
The Dolphin comes with Cruise Control (autopilot) to aid travel and a panoramic image that gives the driver 360-degree visibility for safe vehicle maneuvers. Additionally, Electronic Stability Control, Traction Control, Hill Control and Automatic Vehicle Hold are included to assist drivers.
Other articles
Brazil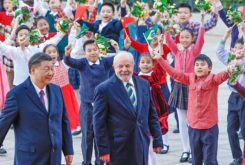 26 September 2023
China To Deepen Practical Cooperation With Brazil in All Areas
Brazil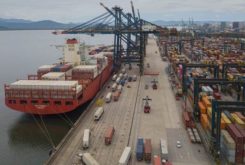 19 September 2023
China Fuels Record Brazilian Agricultural Exports