Chinese automaker BYD will build three new factories in Brazil, with a total investment of 3 billion reais (about USD 565 million).
According to the Government of the state of Bahia (northeast), the region where the plants will be installed, two factories will produce chassis for buses, trucks and cars and the third will process lithium and iron phosphate, materials used in batteries, which will be exported to China.
The works are expected to begin in June 2023, and the first two factories will start operating in October 2024, including the chemical plant and the bus and truck plant, whose production will target the Northeast Brazilian market.
Brazilian Ride-Hailing App 99 and China´s BYD launch joint EV tests
The factory dedicated to the production of automobile chassis will start operations in January 2025, according to the Chinese company.
As part of the agreement, the Bahian government will grant tax incentives to BYD until December 2032, while the company will commit to hiring local construction companies and suppliers.
BYD has three factories in Brazil, the first of which, for bus chassis assembly, was inaugurated in Campinas, in the state of Sao Paulo, in 2016.
In 2017 it inaugurated a photovoltaic module factory in Campinas and in 2020 it began operations of its first battery factory, located in Manaus, the capital of Amazonas.
Other articles
Brazil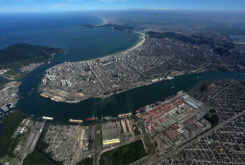 24 May 2023
Artificial intelligence and machine learning resolving China-Brazil "logistics bottlenecks"