China is willing to expand projects with Portugal in the fields of energy, finance and infrastructure, as well as strengthen cooperation in scientific and technological innovation, according to Foreign Minister Wang Yi.
Wang held last week the first round of China-Portugal strategic dialogue at the foreign ministers' level with Portuguese Minister of State and Foreign Affairs Augusto Santos Silva in Chengdu via video link, according to a Government statement.
"China supports Chinese enterprises in investing and doing business in Portugal and stands ready to tap trade potential with Portugal, optimize trade structure, expand and strengthen the existing projects in energy, finance and infrastructure and push for more tangible results of bilateral economic and trade cooperation", the Chinese Foreign Minister said.
New Chinese Ambassador to Portugal Vows to Keep "Good Development" of Bilateral Ties
According to Wang, "China is willing to strengthen cooperation in scientific and technological innovation, and promote joint research in advanced materials, marine, language and cultural heritage".
The Minister said that China always views its relations with Portugal from a "strategic and long-term perspective", underlining that the two countries have established a comprehensive strategic partnership and that the "traditional friendship between the two countries has stood the test and opened up new opportunities".
"China is ready to carry forward its fine tradition, consolidate strategic mutual trust, expand mutually beneficial cooperation with Portugal, and make contributions to promoting bilateral relations", Wang Yi said.
The Covid-19 vaccine, he added, "is the most powerful weapon to defeat the pandemic" and China "stands ready to strengthen cooperation with Portugal and other European countries on the research and development as well as fair distribution of vaccines and drugs".
China Allows Visa-Free Re-entry of European Workers With Residence Permit
Wang Yi stressed that China has always supported the European integration process and Europe's stance of strategic autonomy, but underlined that "the European Union's unilateral sanctions against China are totally inconsistent with the comprehensive strategic partnership between the two sides" and China "thus has to make legitimate and necessary responses".
"There is no conflict of fundamental interests or opposition of real interests between China and Europe", Wang said, adding that he "hopes that the current difficulties can be overcome as soon as possible to bring bilateral relations back to the track of sound development" and that "Portugal will continue to play a constructive role to this end". "As the markets of the two sides are highly complementary, there is a high potential and a broad space for mutually beneficial cooperation".
Santos Silva underlined that Europe and China are "important economic and trade partners" and can also work together on international issues, such as climate change. "Portugal is in support of expanding the common understanding between Europe and China and strengthening bilateral cooperation", the Portuguese Minister added.
Regarding the pandemic, and in particular China´s opposition to investigations into its Wuhan laboratory as the origin of covid-19, Santos Silva said "Portugal advocates conducting the origin-tracing in a scientific and professional spirit and does not support any act of politicalizing the origin-tracing or the World Health Organization's work".
"Portugal appreciates the significant contribution made by Chinese companies to Portuguese economic and social development through lawful operations in the country. The Portuguese market will always be open to Chinese enterprises", the Portuguese Minister added.
Other articles
China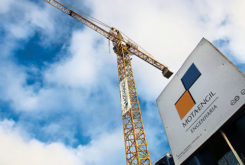 05 December 2022
Mota-Engil, CCCC and CRBC selected for USD 2.5bi tender in Nigeria
China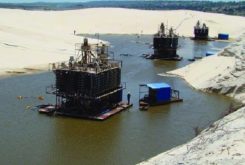 05 December 2022
Mozambican president calls for more Chinese investments