The Chinese ambassador to Angola said that China will continue financing "strategic infrastructure" in Angola, including ports, airports and hydro dams.
Gong Tao (pictured above, left), who was received on Monday by the Angolan President, João Lourenço, underlined infrastructure supported by China in Angola, such as the new international airport in Luanda, the Caculo-Cabaça hydroelectric plant and the new port of Caio, in Cabinda, whose construction is proceeding in order to be delivered on time.
"These are strategic infrastructures for Angola and China has all the support to give the Angolan side, we know the importance of these projects, we will continue to finance these works", he declared.
Gong Tao also stressed the importance of economic diversification, which the Angolan Government wants to prioritize and added that China will analyze and study the national development plan for the next five years, which should be presented soon.
The Chinese ambassador said that the two parties should evaluate new cooperation possibilities in the area of financing, investment and staff training in the second edition of the China-Angola cooperation steering committee.
"Our relations have already borne fruit in the past and will continue to do so", he stressed.
Angola among African countries helped by China with pandemic debt relief
Gong Tao also noted that the growth in trade reached USD 27 billion (25 billion euros) last year, a year-on-year increase of 25%.
Angola is China's second largest trading partner in all of Africa, after South Africa and China remains Angola's largest partner since the last decade, continued the ambassador, adding that there is interest in diversifying the products sold.
"We want to boost Angola's ability to export more to China, which has a large market and an ever-increasing number of middle-class Chinese, offering great potential for everyone in the world," he said.
China National Aero-technology International Engineering Corporation airport project pleases Angola
Therefore, a new customs agreement is being negotiated in which China will offer zero tariffs to 98% of Angolan goods exported to the Asian country, and agreements are also being negotiated in the area of fisheries and agriculture, a sector in which "Angola has a great future," according to Gong Tao.
The diplomat said that after the lifting of restrictions related to covid-19, several business groups have arrived in Angola, highlighting the political and social stability of the country, which shows great potential for Chinese and Angolans to explore new opportunities for cooperation in trade and investment.
Gong said that an Angolan delegation with several businessmen is expected to do a 'road show' in China about opportunities that are emerging.
Bilateral relations, the diplomat said, are "in a good period of their development", in the year in which the 40th anniversary of their establishment is celebrated.
Other articles
Angola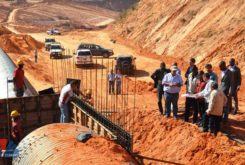 31 May 2023
African Development Bank to manage in Angola USD 50 million credit facility provided by China
Angola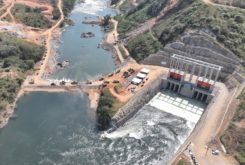 25 May 2023
Angola's 'Three Gorges' Hydro Dam Begins Main Construction Phase