China has invested around USD 1 billion in Mozambique, mainly in infrastructure, since 2017, according to the African country´s Government.
"China has been investing in the country in strategic and priority areas, namely agriculture, mineral resources, transport and communications, tourism and industry", Silvino Moreno, minister of Industry and Commerce said  during a promotion event in Maputo of the third China-Africa Economic and Trade Exhibition (CAETE).
Moreno underlined Mozambique´s  interest in CAETE, to be held from June 29 to July 2, in Changsha (China) "to increase and diversify the investment portfolio".
Mozambique OKs port terminal for Chinese heavy sands mining project
"Over the past six years (from 2017 to 2022), China has been among the countries with the highest Foreign Direct Investment in Mozambique, having invested around one billion US dollars," Moreno added.
Mozambique will participate in CAETE as a partner country, highlighting the importance of economic and commercial relations between Mozambique and China, one of the three largest bilateral partners in terms of trade for the African country, the minister said.
"The Government has been building an attractive environment for investment through a portfolio of structural reforms to Mozambique's competitiveness in many areas, namely in the revision of the Investment Law,  Communication Regime and some tax incentives in the IVA Code, Tax Specific Consumption and Corporate Income Tax", said the government official.
Mozambique among guests of honor at China-Africa Economic and Trade Expo in Changsha
Yolanda Fernandes, vice president of the Chamber of Commerce of Mozambique, said at the event that the Changsha fair "will undoubtedly be a unique moment for exposing Mozambique to the world and the Chinese market in particular".
"It will also be a time to strengthen our partnership in the sectors of industry, agro-processing, mineral resources, energy, infrastructure, fintech, construction and tourism", focusing on increasing "exports of value-added products in various sectors of the [Mozambican] economy, with emphasis on agriculture and mineral resources", Fernandes added.
Other articles
Angola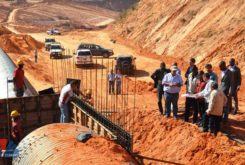 31 May 2023
African Development Bank to manage in Angola USD 50 million credit facility provided by China