Mozambique will be one of eight African countries featured as guests of honor at the next China-Africa Economic and Trade Expo in Changsha.
The third China-Africa Economic and Trade Expo, will be held from June 29 to July 2 in Changsha (pictured above), central China, featuring the release of the first China-Africa trade index.
The eight African guest of honor countries will be Benin, Democratic Republic of Congo, Madagascar, Malawi, Morocco, Mozambique, Nigeria and Zambia.
Mandarin courses at Mozambique's top university gain popularity
The exhibition will also feature the release of the report on China-Africa economic and trade relations.
Other events planned include forums, business talks and seminars.
First launched in 2019, the expo is an important platform for strengthening economic and trade cooperation between China and African countries.
Other articles
Angola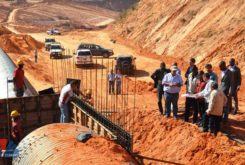 31 May 2023
African Development Bank to manage in Angola USD 50 million credit facility provided by China