Mandarin courses at Mozambique's top university, Eduardo Mondlane (UEM), are gaining popularity, according to Henrique Mateus, the university's director of the Degree Course in Chinese Language and Literature.
"We have seen a growing increase in the number of students in the Mandarin courses, after having had a slight drop due to COVID-19. With the easing of the measures and the return to normality, the number of admissions has been increasing, both in open courses as well as in undergraduate courses," Mateus told Xinhua.
According to Mateus, the Confucius Institute (CI) managed to fill all the vacancies that were made available in the current academic year with the freshers registering for the Mandarin courses.
Mozambique's Eduardo Mondlane University celebrates 10 years of "fruitful cooperation" with China's Zhejiang University
In terms of the degree, which was set up in 2016, the CI managed to maintain the level of granting professional degrees in accordance with the vacancies, said Mateus at the opening of the academic year and a scholarship awarding ceremony of the institute at the UEM.
Samuel Quive, the director of the Faculty of Letters and Social Sciences at the UEM, praised the IC's efforts to promote the Chinese language and culture in various units of the country.
The institute reflects the friendship and cooperation between Mozambique and China, said Quive, appealing to students to take their studies seriously, because "through the language you are studying, you will be able to participate in the global economy and all the activities that take place inside and outside the country."
Some scholarships and financial aid supported by a local Chinese company were also awarded to more than 40 students at the ceremony.
Other articles
China
16 March 2023
Alibaba agrees to connect small Mozambican producers to global markets
Mozambique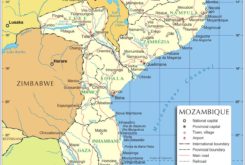 15 March 2023
Mozambique set to begin repair of its main highway with World Bank funding