Cabo Verde´s investment promotion agency is awaiting the presentation of a "recovery plan" for David Chow´s hotel-casino in the capital city Praia, which is facing "some difficulties".
José Almada Dias, president of Cabo Verde TradeInvest (CVI), said the construction of the hotel-casino by Macau Legend group "has experienced some recovery difficulties", in the wake of the crisis of the tourism sector in the last few years.
The official told Lusa news agency that the agency responsible for processing investment projects in the country has been in contact with the promoters, and that "some decision will have to be taken".
Growing doubts on completion of David Chow´s project in Cabo Verde
Macau Legend is "expected to present a recovery plan shortly", said José Almada Dias, adding that the promoters are interested in moving forward with the project, in which some work has already been done, namely a bridge to the islet of Santa Maria.
"Naturally we are following the matter very closely, in close contact with the promoters and also the Government itself is on top of the event and soon we will have to make a decision whether the project moves forward quickly or whether there will have to be other measures", the official added.
"The project will have to move forward, with these or with other promoters", Almada Dias underlined. "I don't know if this will be the case, on the contrary, the promoters are showing a willingness to present a recovery plan and we are hopeful that this will be the case because it will be much easier".
Delay in Macau Legend´s EUR 250 million Resort in Cabo Verde Likely – Government
David Chow signed in 2015 an agreement with the Cape Verdean government for the construction of the development, with the first stone of the project being laid in February 2016.
It is the largest tourist development in Cape Verde, with a planned global investment of 250 million euros – around 15% of Cape Verde's Gross Domestic Product (GDP) – for the construction of a tourist resort on the islet of Santa Maria, which will cover an area of 152,700 square meters, inaugurating the gaming industry in the archipelago.
The work involves a hotel with a 'boutique casino', with 250 rooms, which has already been built, but is closed, a large swimming pool and several facilities for restaurants, bars and commercial establishments, as well as a marina.
Other articles
Cabo Verde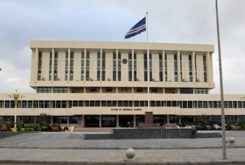 26 April 2023
Legal Update/Cabo Verde: National Strategy for the Prevention and Combat of Money Laundering