Cabo Verde and Mozambique are increase scientific cooperation with China, under new projects.
The Ministry of Natural Resources (MNR) of the People's Republic of China welcomed last week African delegates to inaugurate the China-Africa Cooperation Centre on Satellite Remote Sensing Application, with the participation of Cabo Verde delegates.
The programme, jointly organised by China's Land Satellite Remote Sensing Application Centre, the National Satellite Ocean Application Service, and the MNR, aims to establish a data-sharing service platform and conduct remote sensing monitoring of natural resources in coastal zones.
New science-tech cooperation projects inked at China-Africa Innovation Cooperation Conference
The data acquisition focused on mangrove remote sensing monitoring and other ocean-related application services in Africa.
The event was attended by delegates, including government officials and agency representatives from various African states, including Cabo Verde, Egypt, Ghana, Kenya, Rwanda, and South Africa, actively implementing remote sensing technologies to tackle socioeconomic challenges and enhance sustainable development efforts at the national, regional, and continental levels.
Following its full operation, the Centre will be a hub for knowledge exchange and technical cooperation between China and African nations by facilitating capacity building, technology transfer, and joint research initiatives to harness the power of satellite remote sensing in addressing pressing environmental and developmental challenges across Africa.
FOCAC Dakar Action Plan "more detailed and wide-reaching" than previous ones
Eighteen China-Africa science and technology projects were signed last week in Wuhan, central China's Hubei Province, according to local authorities.
The agreements, involving areas such as advanced technology, modern agriculture, health sciences and higher education, were announced at the current 2023 China-Africa Innovation Cooperation and Development Forum.
Chinese universities, along with research and medical institutions, as well as corporations, have partnered with their African counterparts in Ethiopia, Nigeria, Egypt, Ghana, South Africa, Tunisia, Kenya and Mozambique.
Mandarin courses at Mozambique's top university gain popularity
Partnerships cover diverse areas such as smart city development, multimedia communication, energy storage, water-saving irrigation, sesame variety improvement, tumor prevention and treatment, and infrastructure.
Zhang Xiao, director of the China-Africa Innovation Cooperation Center, noted that the wide coverage of signed projects reflects the deepening of innovative collaboration between China and Africa.
Other articles
Angola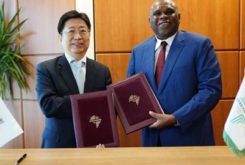 30 August 2023
Afreximbank and China Development Bank sign USD 400 million Loan to Support African SMEs
Angola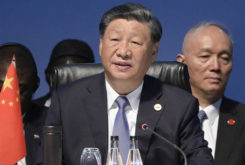 25 August 2023
Chinese President Vows to Support Agricultural Modernization in Africa