China is set to remain the primary consumer of Brazilian crude oil, as the South American country becomes a top-5 global producer.
"The world's second-largest economy is expected to pull ahead of the U.S. during 2021 to become the largest refiner globally. That, coupled with a return economic growth as pandemic impacts ease, will drive higher consumption of fuels" in China, according to market analyst Matthew Smith, in an article for Oilprice.com.
Demand for high-quality low sulfur and metals content crude oil is growing at a solid clip (and) that is further bolstered by Asia being a key global shipping hub with Singapore, the world's number one ranked bunkering port by volume, and Hong Kong the fourth largest. China's production of maritime fuels is rapidly expanding, causing demand for sweeter low contaminant IMO 2020 crude oil grades to soar", Smith adds.
China Buys Less Angolan and Brazilian Oil, as Iranian Imports Surge
According to Smith, demand for sweet high-quality crude oil remains strong in Asia and "demand for Lula and Buzios crude oil varieties will keep expanding, particularly as China's economic growth and refining activity ratchets upward".
"The strong demand outlook coupled with the prolific pre-salt oilfields' low breakeven prices estimated to be on average below $35 per barrel, and high-quality crude oil grades is attracting solid investment inflows from foreign energy majors", the analyst says. That, along with Petrobras' planned $17 billion investment in the Buzios field will support Brazil's forecast production growth, allowing Latin America's largest economy to become the world's fifth-ranked oil exporter, he adds.
At the end of 2020, Brazil was pumping the most oil in Latin America, an average of 3.03 million barrels daily, and finished ranked as the world's seventh largest producer behind OPEC member Iraq and ahead of the United Arab Emirates.
Brazil Rises to Become China's Fourth Major Oil Supplier, Angola Slips
According to Brazil's Mines and Energy Minister Bento Albuquerque, Latin America's top oil producer will become the world's fifth-largest petroleum exporter by the end of this decade. Brazil's government is forecasting that the country will be pumping 5.3 million barrels of oil per day by 2030 facilitating its ability to substantially boost exports.
Data from Brazil's National Agency of Petroleum, Natural Gas and Biofuels shows that by July 2021 the country was pumping on average 3.9 million barrels of oil equivalent per day, a 4% increase month over month and 0.6% higher than a year earlier. It is Brazil's prolific offshore pre-salt oilfields that are driving the country's production growth. During July 2021, pre-salt oil production jumped by 3.7% compared to a month prior and 4.1% year over year to 2.8 million barrels per day.
It is the giant Tupi oilfield, which since starting production in 2010 pumped more than 2 billion barrels of crude oil and is Brazil's largest producing field pumping 916,826 barrels of petroleum per day during July 2021. That is followed by the 210,000-acre Buzios oilfield, which for the same period pumped 569,648 barrels of crude oil, making it Brazil's second largest field.
Brazil's National oil company Petrobras plans to invest USD 17 billion in the deep-water field between 2021 and 2025 which will see 8 FPSOs added in less than a decade lifting production capacity to at least 2 million barrels per day.
Other articles
Brazil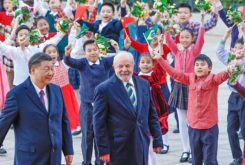 26 September 2023
China To Deepen Practical Cooperation With Brazil in All Areas
Brazil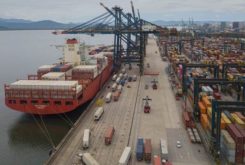 19 September 2023
China Fuels Record Brazilian Agricultural Exports