Brazil rose last year to become China's fourth major oil supplier, while Angola's exports to the Asian giant dropped.
Chinese imports rose 7.3% to a record of 542.4 million tonnes or 10.85 million barrels per day (bpd).
Saudi Arabia was China's number one supplier, with shipments rising 1.9% from a year earlier to 84.92 million tonnes, or about 1.69 million bpd.
Data from the General Administration of Chinese Customs showed Russia was a close second with shipments of 83.57 million.
Iraq say a steep rise of 16.1%, to 60,12 million tonnes, followed by Brazil with 42,2 million tonnes, a 5.1% rise.
Angola was the fifth major supplier, with 41,8 million tonnes, an 11.7% drop.
Chinese government data showed oil demand in China, the world's top oil importer, remained strong last year even as the coronavirus crisis hit economies worldwide.
Brazil's massive offshore projects are coming online, offering Asian refiners competitive deals on relatively high-quality oil.
Other articles
Angola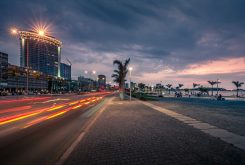 18 May 2022
Legal Update/ Angola: Non-Banking Financial Institutions