The Angola-China Chamber of Commerce (CAC) is partnering with six Chinese associations working in Angola to promote trade and investment between the two countries.
In the presence of businessmen from both countries and representatives of the Ministry of Industry and Commerce and the CMC – Capital Market Commission, the deal was signed last week by Luís Cupenala (pictured above), the new CAC president, under the motto 'Different Peoples, Different Cultures and One Future'.
"Angolan companies with Chinese capital have organized themselves into associations – according to their origin in the Chinese provinces – spread across the country and provide their work in the various sectors of the country, our economy", Cupenala underlined, quoted by the local press.
Economic Reforms Make Angola More Attractive to Chinese Investment
Cupenala also promised to work with the Angolan Executive and the government of China to implement the reciprocal investment protection agreement.
The recently elected CAC president highlighted the need to publicize the various opportunities that the Angolan market offers and work with the Government institutions to improve the business environment in the country.
The idea, he highlights, is to make Angola more attractive so that major players in the international market look to the African country as a space of opportunities to make big investments "that will certainly contribute to the diversification of the economy".
The representative of the Jiangsu General Trade Association in Angola, Francisco Shen, told the local press that the agreement with CAC will strengthen the organization, in search for solutions for strengthening the Angolan economy and creating jobs.
Elina Qu, general secretary of the Association of Chinese Women in Angola, welcomed the signing of the cooperation protocol with CAC, stressing the importance of strengthening business relations between companies in both countries.
"We also intend to work with Angolan women's organizations and continue our philanthropy project by providing support to centers for the care of children and people in need", Qu said.
Other articles
Angola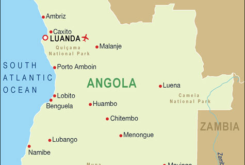 21 June 2021
China National Aero-Technology Corporation in USD 85 million Angola Deal