Portuguese transportation company STCP will buy 48 electric buses from China´s Zhongtong Bus under a EUR 19.26 million contract.
The first of the 48 new units will arrive in September 2023 and the remaining deliveries, in phases, will be completed by November of this year, according to a statement.
In addition to the new buses, the contract includes the installation of a new charging station at the STCP collection station, which should take place at the "end of August".
First train for Porto metro project rolls off production line in China 
Of the 48 new buses – all 12 meters long and with around 370 kilometers of autonomy -, half will replace a fleet at the end of its life; the remaining units will reinforce the carrier's fleet.
The contract with the Chinese manufacturer was signed for a value lower than the approximately 20 million euros initially foreseen in the public tender launched at the end of September and whose deadline for accepting proposals was extended.
The transportation company which operates in the city of Porto and five other municipalities awarded the contract to Energia Fundamental, which represents Zhongtong Bus.
Other articles
China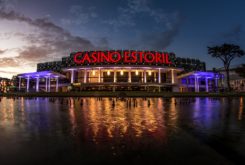 03 February 2023
Ho family´s Estoril-Sol ensures concession of casinos in Portugal for 15 years