The United States is already discussing with the Brazilian government and companies the financing for the purchase of 5G network infrastructure  from Ericsson and Nokia. According to the American ambassador to Brazil, Todd Chapman, the goal is to prevent Chinese companies like Huawei from supplying equipment to Brazilian telecoms.
In an interview with Brazilian newspaper Folha de São Paulo, Chapman added that the move is intended "protect data and intellectual property and also the sensitive information of nations". This type of financing is in the interest of the US "national security", he added.
The financing would come through the International Development Finance Corporation, a development bank created by President Donald Trump in late 2018, which acts as a counterpoint to the China Belt and Road initiative and to the China Development Bank, supplying credit for infrastructure in other countries.
Chapman adds that allowing Chinese companies into the country's 5G infrastructure could even inhibit investments by other foreign companies. "Who wants to make investments in countries where their information will not be protected?"
The International Development Finance Corporation has a capital of USD 60 billion and finances projects by American companies and also in the national interest of the US.
"This opens up possibilities for companies in other countries that the US wants to help. This makes it possible for Ericsson and Nokia to receive financing in 5G projects, including here in Brazil", Chapman said.
"There have already been some conversations in Brazil, including with my participation. And this is also happening in other parts of the world, it is not only in Brazil that we want to work with Ericsson and Nokia", the diplomat added.
Chapman added that Australia, Denmark, Canada and Japan have refused Chinese 5G. "More and more countries are realizing that this is not a commercial issue, it is a matter of national security and the security of the economy itself", said the US diplomat.
"There is a law in China that states that Chinese companies are required to deliver information to the Communist Party. That is why we are sharing this information with Brazil and showing our concern, as a good ally", he added.
At the end of April, the US State Department launched an initiative called the 5G Clean Path, mandating US diplomatic facilities cannot have the services of operators that are using untrustworthy equipment.
Todd Chapman, 58, has been a United States ambassador to Brazil since April 2020. During his career, the diplomat has served at US embassies in Afghanistan and Mozambique, as well as Bolivia, Costa Rica, Nigeria and Taiwan.
Deployment of the 5G network in Brazil should occur only in 2021, the National Telecommunications Agency (ANATEL) admitted. The new deployment plan may put Brazilian 5G in a delay of up to 3 years when compared to China, which already has its eyes on 6G.
Photo: US Ambassador to Brazil, Todd Chapman (Folha de São Paulo)
Other articles
Brazil
28 October 2020
China´s Aliexpress to Profit from E-commerce Boom in Brazil
Brazil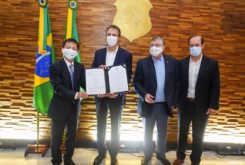 27 October 2020
China's MingYang Smart Energy to Launch Pilot Offshore Wind Project in Brazil