The new faculty of Portugal´s University of Lisbon at Shanghai University (ULisboa School) will offer bachelor's and master's degrees in four areas of engineering.
The presentation of the ULisboa School of Shanghai University took place during the Global University Presidents' Forum, under the theme "Reshaping Universities for the Future: Mission and Innovation", which took place on September 23 in Shanghai.
The opening ceremony of the ULisboa School at the University of Shanghai was attended by the Rector of the University of Lisbon, Luis Ferreira, as well as Portugal´s Secretary of State for Higher Education, Pedro Teixeira, according to the institution.
University of Lisbon to open faculty at the University of Shanghai
ULisboa School will offer degrees in civil engineering, electrical and computer engineering and environmental engineering, with a faculty made up mostly of professors from ULisboa and Shanghai University.
"Aiming at innovation in education, research, culture and connection to society through international cooperation, the Global University Presidents' Forum's mission was to explore solutions to the global challenges of today's society, through collaboration and sharing between university leaders", ULisboa School said.
Other articles
Angola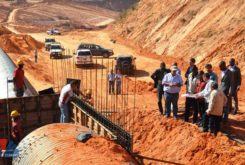 31 May 2023
African Development Bank to manage in Angola USD 50 million credit facility provided by China