The U.S. government development bank is to invest $25m in mining investment company TechMet, to develop a Brazilian nickel and cobalt project, as part of a push to reduce reliance on supply chains dominated by China.
It's the first time the U.S. government has invested directly in a metals and mining company, TechMet said in a statement.
"This important financing will support economic growth in one of Brazil's most underdeveloped areas," Adam Boehler, chief executive of the US International Development Finance Corporation, said.
"Investments in critical materials for advanced technology support development and advance US foreign policy," he said.
The money from the USD 60bn US International Development Finance Corporation for TechMet to develop minerals to supply the electric car industry is part of the U.S. administration´s strategy to break China's hold over raw material supply chains.
Last week U.S. president Donald Trump said the country's reliance on foreign supplies of critical minerals was a "national emergency" and a security threat.
TechMet was founded in 2017 by Brian Menell, a South African with a background in African mining, to invest in metals needed for clean energy technologies and battery recycling.
The company has investments in battery recycling company Li-Cycle, US Vanadium, Rainbow Rare Earths, Brazilian Nickel, and Tinco, a tin and tungsten company in Africa.
The funds will be used to bring Brazilian Nickel into commercial production, Mr Menell said. The company is developing a cobalt and nickel mine in Piaui in north-eastern Brazil.
"A country's national and industrial competitiveness will be dependent on preferential access to these raw materials," Mr Menell said.
Measures taken by the U.S. and the European Union (EU) to improve supply of rare earths minerals are seen as encouraging by mining company Pensana, which partners in a new project in Angola with China Great Wall Industry Corporation (CGWIC).
Other articles
Brazil
28 October 2020
China´s Aliexpress to Profit from E-commerce Boom in Brazil
Brazil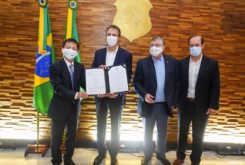 27 October 2020
China's MingYang Smart Energy to Launch Pilot Offshore Wind Project in Brazil