São Tomé e Príncipe´s main cassava processing plant has returned to production, with Chinese support.
The cassava processing plant in Margarita Manuel, Mé-Zochi district, is the largest of its kind in the country, and its production has accounted in the past for more than half of the national production, but was stopped for several years due to poor maintenance.
Speaking at the reopening cerimony (pictured above), the local Minister of Agriculture, Fisheries and Rural Development, Francisco Ramos, said that the increase in production and income of the factory is of paramount importance to ensure the country's food security, given the constant increase in food insecurity on the African continent.
Ramos added that the restart of the factory is another result of agricultural cooperation between China and São Tomé and Príncipe.
A Chinese team of agricultural technicians in the African country, conducted extensive repairs, which helped to increase the efficiency of local processing of cassava flour, increasing employment and income for producers.
In order to raise the level of production, operation and management to promote the sustainable development of the factory, Chinese authorities have committed to provide technical guidance.
Other articles
China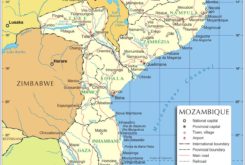 07 December 2022
Mozambique graphite attracts Chinese companies
Brazil
05 December 2022
Brazil Exports to China Jump 35.6% and lead to record trade surplus