China is taking "positive steps" to reduce international travel restrictions, according to the European Chamber of Commerce in China.
Quarantine times for international inbound travellers in multiple Chinese cities have been shortened. Beijing (from 15th May), Jiangsu (from early June, on a trial basis) and Wuhan have reduced centralised quarantine time to seven days if the entry airport and final destination are the same and travellers have conditions to do home quarantine for an additional seven days.
Also, by end of May 2022, Chinese embassies in many European countries had simplified their Health Declaration Certificate (HDC) code application requirements.
New Demands for Foreign Workers Re-entering China a 'de Facto Ban' – European Chamber
On 6th June, The European Chamber was informed during a meeting with Shanghai Vice Mayor Zong Ming that the requirement for PU letters would be rescinded for foreign nationals returning for work and their dependents, an initiative from the central government to promote company operations.
Official announcements confirming this policy shift were subsequently published from 10th to 14th June on the websites of Chinese embassies in some European countries, including Austria, the Czech Republic, Finland, France, Germany, Norway, Poland, Romania and Switzerland.
The European Chamber says it has continuously advocated, at both central and local government levels, for the relaxation of travel restrictions and assist their members to return to China, since the outbreak of the pandemic two years ago. It recently had separate meetings with Premier Li Keqiang and Commerce Minister Wang Wentao, during which this topic was raised.
Other articles
Angola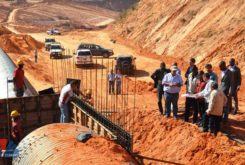 31 May 2023
African Development Bank to manage in Angola USD 50 million credit facility provided by China