Portuguese global biometric technology leader Vision-Box is opening a Centre of Excellence in Kuala Lumpur, Malaysia, consolidating its presence in Southeast Asia.
Vision-Box´s Centre of Excellence "will act as a regional hub for the company while continuing to strengthen its customer relationships and expand the company's presence in Asia Pacific", according to a statement.
This Centre of Excellence comes as Vision-Box extends its operations in the region after a successful regional strategic partnership with Malaysia's air transport leaders – Malaysia Airport Holdings Berhad (MAHB) and AirAsia Group.
Portugal´s AEP Business Association Preparing "Virtual" Missions to Asia
"Vision-Box's partners in Malaysia will have a centre of operations in the country's capital to get industry-leading technical support and operational assistance within the same headquarters at KL International Airport (KUL)", the company said.
Miguel Leitmann, the CEO of Vision-Box said the launch of the Kuala Lumpur hub "is a testament to the importance of Malaysia in the company's vision and mission, and our commitment to our customers in the region". "The centre also brings us closer to two of our marquee clients in the country – Malaysia Airports Holdings Berhad and AirAsia", Leitmann added.
"This new hub will provide all the necessary support and maintenance for our current and future partners in Asia Pacific. We are very proud of this new opening which will leverage Vision-Box's global experience and allow us to solidify our footprint in this region", Vision-Box´s CEO added.
Brazil and Portugal Start-Ups Dominate Macau Innovation and Entrepreneurship Competition
Fabrice Godeau, Head of Asia Pacific at Vision-Box said: "Malaysia remains a well-placed destination for us to capture the opportunities to diversify our supply chain and a leader in seamless travel, automated border management, and electronic identity management solutions and operations in Asia – taking the opportunity to expand our digital capability with the incredible pool of talents and fresh grad".
Vision-Box is a leader in seamless travel, automated border management and electronic identity management solutions.
Other articles
Angola
09 December 2021
China-Africa trade in goods rises 27.4%
China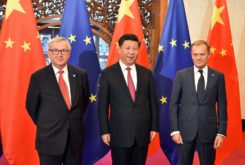 08 December 2021
Brussels and European capitals face 'reality of interacting with a more assertive China'