Portugal is set to expedite its 5G frequency auction for telecom companies, which has lasted 150 days and set the country behind other European partners in deploying the new technology.
To force a conclusion to the 5G auction, the Portuguese Regulatory Authority for Communications (ANACOM, headquarters pictured above) will start a second process to amend its rules, aiming to "inhibit" the use of 1% and 3% increments.
Portugal is at risk of being the last European Union (EU) country to launch 5G. Alongside the Portuguese, only the Lithuanians do not have the technology yet.
On June 30, new rules for the 5G auction came into force, introduced by Anacom in an attempt to speed up the process by making it possible to hold 12 daily bidding rounds instead of seven. The change was strongly contested by Meo, Nos and Vodafone, the country´s leading telecom companies.
The process did not progress as expected. "ANACOM had hoped that the increase in the number of rounds would be enough to prevent the auction from being excessively prolonged, but this did not happen. In fact, since implementing this measure, over 300 rounds have already taken place and, although the rules in force allow bidders to speed up the auction if they wish, its pace of progress has remained very slow," ANACOM said in a statement.
ANACOM considers that "the implementation of 5G is assumed as an absolutely urgent imperative both within the EU and at national level". For the entity, making the spectrum available "as soon as possible" is necessary to solve "coverage deficiencies" and to "promote economic and social development"
Other articles
China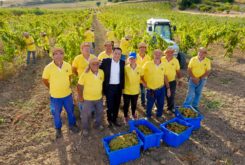 07 June 2023
"Green" Cooperation Brings Deputy Governor of Guangzhou Province to Portugal