Angola will introduce on 15 June new rules for the import of pre-packed products, according to Legis-PALOP+TL legal database.
Executive Decree no. 63/21 of 17 March, states that all commercial agents engaged in import activity in Angola will incur a very serious commercial offense punishable by fines that could amount to 33 598 360 Kwanzas (about EUR 45 000) if they introduce products into the territory without observing the following rules:
⦁ Only import processes for bulk products (that is, in large packages) of the following products are licensed – sugar; flour; rice; wheat flour; cornflour; bean; powdered milk; cooking oil; animal food; coarse salt; refined salt; wheat semolina; pork; beef; margarines; and soap.
⦁ Exceptionally, import processes in small packages (weight equal to or less than 5 kg) can be licensed in the following cases – rice and beans in packages weighing between 1 kg and 5 kg; wheat flour, corn flour and sugar in packs and 1Kg; canned fruit or vegetables in packages weighing 1 kg or less; powdered milk in packages of 1Kg and 2.2Kg; edible oil in 1 liter containers; and salt in packages up to 1 kg.
Other articles
Angola
27 September 2022
92 percent of Cabinda's residential communities covered by China Railway 20th Bureau Group water project
Angola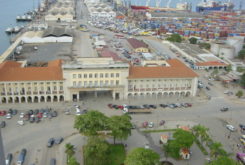 26 September 2022
China was Angola's main source of imports until june 2022