China's investment in the countries along the Belt and Road rose to the highest since 2019, with much of that increase due to a new battery plant for electric vehicles, according to a report from Fudan University in Shanghai.
Investment in the 147 nations in the BRI rose 63 percent to USD 32.5 billion from a year earlier. Driving the rise was China's Contemporary Amperex Technology Co. and Mercedes-Benz Group AG plans to invest more than USD 7 billion in a plant in Hungary, the biggest single project in any BRI country since it started in 2013.
After the tech sector, the energy sector was the largest recipient of Chinese investment, with USD 9 billion going into projects, mostly for oil, gas and green energy. Chinese firms also signed more than USD 15 billion in construction deals for the energy sector and another USD 12 billion for transport infrastructure such as ports, roads and railways, according to the report from Christoph Nedopil at Fudan's Green Finance & Development Center.
'Visible shift' in the framing of China by the European Union
Total construction deals fell 27 percent to USD 35.3 billion, lowest level since the start of the initiative spearheaded by Chinese President Xi Jinping.
Hungary was the largest recipient of Chinese investment among BRI nations, followed by Saudi Arabia and Singapore. Russia, Angola, Sri Lanka, Nepal and Peru saw no new investment or construction deals, while engagement in Pakistan fell 34 percent, and that in sub-Saharan Africa also dropped by double digits, the report showed.
Chinese lending to a number of nations has fallen during the pandemic as an increasing number of borrowers in Africa and elsewhere have either defaulted on their debts or requested debt restructuring. Pakistan was in talks this week with the International Monetary Fund for a resumption of a $6.5 billion bailout and Sri Lanka is moving closer to a restructuring deal.
Brussels and European capitals face 'reality of interacting with a more assertive China'
Lending by China's top two development banks slowed in 2020 and 2021, according to separate research.
The value of construction contracts should roughly track the value of overseas projects that are funded with Chinese loans, while the investment figure tracks overseas projects where Chinese companies have an equity stake, according to the report's author.
As there is a possible overlap between the two and because some Chinese construction contracts will be for projects funded by other countries, the report tracks "engagement" in the BRI, not the total Chinese financing of BRI projects. Total engagement in 2022 was USD 67.8 billion according to the report, slightly lower than the $68.7 billion in 2021.
Other articles
Angola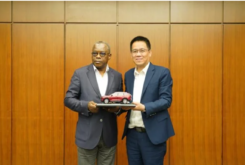 20 September 2023
Chinese Automaker Great Wall Says Angola a 'Key Market'
Angola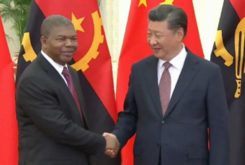 18 September 2023
"New Vitality" in Angola-China relations, CCP Political Bureau Member Yin Li Says