Portuguese infrastructure group Mota-Engil, partly owned by China's CCCC, has signed an agreement for the concession of rail services and logistical support for the Lobito corridor, in Angola.
Mota-Engil will manage the strategic infrastructure linking the Angolan coast to hinterland countries in consortium with Trafigura Pte Ltd. and Vecturis S.A..
In a statement, the group said that the concession of rail services and logistical support for the Lobito corridor will enable "a key route connecting the mines in the Democratic Republic of Congo (DRC) to the Lobito port in Angola and to the international markets".
Angola to earn USD 2 billion from Lobito corridor concession to Mota-Engil
Mota-Engil Africa participates with 49.5% in the consortium which will be responsible for the exploration, management and maintenance of the road infrastructure for the transport of goods, minerals, liquids and gases to the corridor that connects the Lobito port to Luau, in eastern Angola, close to the border of the DRC.
With an initial term of 30 years, the agreement provides for a total investment of USD 450 million, of which USD 166 million in infrastructure and USD 70 million in rolling stock.
"With this award, the group continues to strengthen its order book and diversifying its portfolio of projects,
ensuring a more recurrent flow of revenue in the medium and long term", Mota-Engil said.
Lobito Corridor Concession in Angola Attracts CITIC, CR20 and Mota-Engil
Early this year, China International Trust Investment Corporation (CITIC) and Shandong Port Group (SPG) are the winners of the public tender for the management and operation of Angola´s Port of Lobito Multipurpose Container and General Cargo Terminal.
The concession, for a period of 20 years, follows a public tender where the Chinese bid surpassed another by the Philippine group ICTSI, according to the appraisal report of the final proposals. ICTSI had already lost the tender for the management of the Port of Luanda terminal, which went to DP World, from Dubai.
The CITIC/SPG consortium proposed to pay USD 100 million on the date of signature of the concession contract and a maximum volume of 2.78 million tons of cargo per year, as well as increase containerized cargo capacity to 100 thousand TEUs (unit equivalent to a 20-foot container) per year until the end of the concession.
Other articles
Angola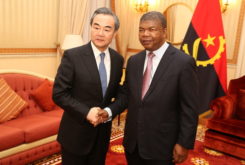 07 December 2023
China and Angola "An Example" for South-South Cooperation, MFA Says
Angola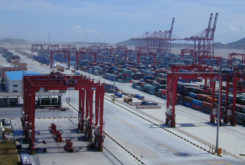 07 December 2023
China Eliminates Tariffs on 98% of Imports from Angola and Signs Investor Protection Agreement