The 25th Macao International Trade and Investment Fair (MIF), Macao Franchise Expo 2020 (MFE) and 2020 Portuguese Speaking Countries Products and Services Exhibition (Macao) (PLPEX), which are running concurrently, started on Thursday, and 52 contracts were signed on the first day, according to the Macao Trade and Investment Promotion Institute (IPIM).
During the three-day exhibitions, over 50 forums, meetings, exchanges, and promotion sessions will take place, including the "2020 International Trade and Investment Forum and Forum on Chain and Franchise Business Opportunities of International Brands", the 17th World Summit of Chinese Entrepreneurs", and the "Portuguese-speaking Countries Wine and Food Business Matching Seminar", so as to enhance the interaction among participants and help them seize developmental opportunities.
An online business matching zone and a live-streaming room will be set up, offering "online-offline" and "online-online" business matching sessions during the exhibitions.
As of 19 October, the number of online expo exhibitors has exceeded 1,100, with a total over 3,700 online exhibits. The exhibitors are from Mainland China, Portugal, Brazil, Canada, Singapore, Japan, Hong Kong, and Macao.
This year, the three exhibitions cover an area of 25,000 square metres and offer over 1,200 booths, covering project investment, financial services, science and technology innovation projects, food and catering services, cultural and creative industries, Portuguese-speaking countries' specialty products, professional consulting services and franchise industries.
The three exhibitions also aim to promote the interaction between Guangzhou, Shenzhen, Zhuhai, Foshan, and other cities in the Greater Bay Area with twelve regions of Beijing, Tianjin, Jiangsu, Jilin, Fujian, Guangdong, Guizhou, Hubei, Hainan, Zhejiang, Liaoning and Tibet to expand markets through the exhibition platform.
The fair was visited on Thursday by the ambassador of Portugal, José Augusto Duarte, accompanied by the consul-general in Macau, Paulo Cunha Alves, and vice-consul and trade representative Carolina Lousinha.
Photo: Ambassador of Portugal, José Augusto Duarte (center), hosted at Portuguese winery Quinta da Marmeleira´s PLPEX stand, 22 October
Other articles
Macao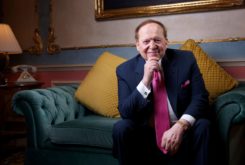 13 January 2021
Sheldon Adelson, the billionaire who transformed Macao, dies at age 87
China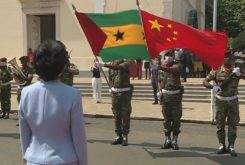 11 December 2020
New Chinese Ambassador to São Tomé Presents Credentials